Of the many things I have been blessed with as a result of my relationship with my husband, his family truly tops the list. From an incredible sister-in-law to a hilarious brother-in-law, warm-hearted and intelligent parents, aunts and uncles who went the distance and then some for our wedding, to grandparents whose humor and wit make any day better. Even though I come from a large family myself, I welcomed his family with open arms, adopting them as my own long before my husband even proposed.
Last week, we lost one of the most inspirational ladies I know. If I end up having even half the strength, the wit, and the drive that Grandma R had, I'd consider myself blessed. The woman had battled numerous illnesses, cancers, the loss of her husband after his battle with cancer, and soldiered on, always with a joke on hand. I remember visiting her during a chemo treatment, and even in the middle of one of the most arduous medical treatments a person can go through, she had no problem dishing out jokes with ease.
When funeral arrangements were made, I found out that she wanted no one to wear black. She wanted festive colors -- specifically, the color purple -- not the morose and solemn black. I don't even own shirts that are purple, let alone something dressier. So, with only a day to think of something before I flew to her funeral, I decided to create a purple headband.
My biggest problem would be the elastic. I have tried sewing in elastic before, only to have a hot mess on my hands instead. Also, I have a huge Irish noggin, so buying a purple headband and embellishing it was out of the question.
What I gathered to create my headband were: a regular hair elastic (I never made it to the drugstore in time to buy new ones, but I chose one of my no-edge hair elastics). I also got out my measuring tape, my rotary cutter, and purple ribbon.
I first measured roughly how long the elastic was, just so I could get a decent idea as to how long the ribbon should be. I then measured the full circumference of my head, vertically, around the part where the headband would go. I got back a self-esteem-crushing 22 1/2 inches. Subtract roughly 3 inches for the elastic, and I had a general idea as to how long the ribbon would be when all was said and done.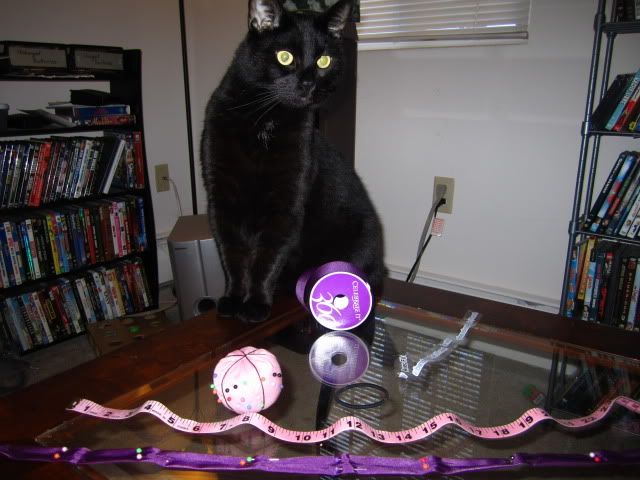 The 19 1/2 inch measurement would only be used once everything was in place. I actually cut 23 inches of ribbon as my initial cut. In case I measured wrong, in case I needed to fold more ribbon over the elastic than I planned to, etc. As you can see, Salem made sure I kept focus on the project, as I had essentially an hour between coming home from work and packing for the next day's flight to make the headband.
I folded over both edges of the ribbon to the halfway mark and pinned it in place every two or so inches. I set my iron to the lowest possible setting and carefully ironed the hem into place.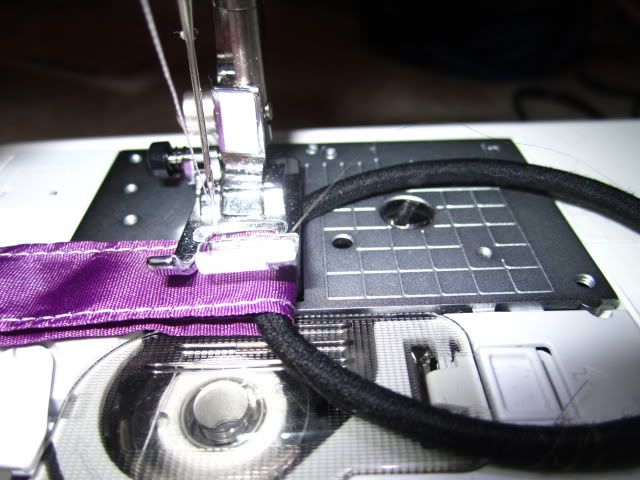 After sewing the edges, I folded one end over the elastic and sewed it into place. Be sure to place the elastic on your
right
side of the needle, where there will be the smallest amount of space between the needle, the foot, and the elastic. As you can see, I did the opposite. This resulted in a sudden zag of my thread.
Eh, live and learn (and remember the dimensions of the needle's foot).
Afterward, I folded the ribbon over the other side of the elastic roughly at the 19 1/2" mark, pinned it, and (carefully) tried it on. It took a few adjustments, and it turned out I needed even less ribbon than I measured (which gained me back a little bit of self-esteem). After making sure the ribbon was straight and the ribbon was folded in the same direction as the first side, I sewed the second strap into place.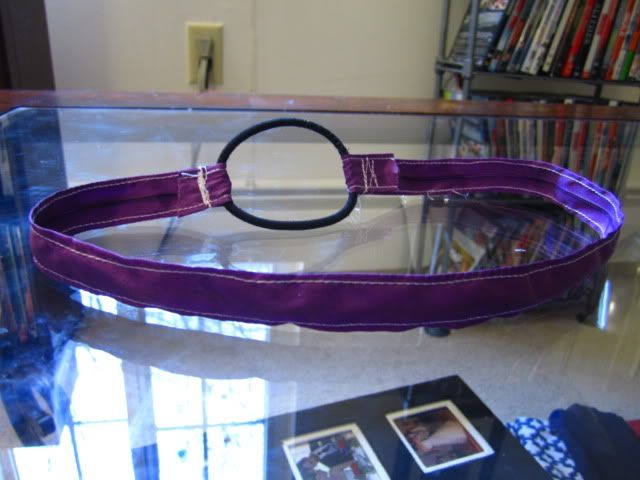 Although I'm ecstatic with how it came out, I won't be modeling it, for two reasons: 1) I don't have the time to set up the tripod and take some self portraits, and 2) I feel like that would be taking away from this post. Because, at the end of the day, this post is not about an inability to sew in elastic, or my huge noggin, but the celebration of an incredible lady.
Dedicated whole-heartedly to Grandma R.