I've been dreaming of a coffee bar ever since we started searching for a house. And, once we had that house in our possession, I needed to figure out how to implement such an idea. I originally went with the idea of a wooden kitchen island with shelves drilled into the wall. But, given how exhausted we were with micro-renovating the house, this idea got nixed.
The result? A baker's rack that got transformed into a coffee bar. I got this for dirt cheap on Craiglist (and from a lady who lived not even 5 miles away from us). Baker's racks are typically for microwaves or knick knacks or as a mini desk, but this particular rack would go down a path less taken.
I placed a few S-hooks on the back bar and used it to hang a few of my coffee cups. It serves both as a place to store more of my cups and as a nice backdrop/decoration.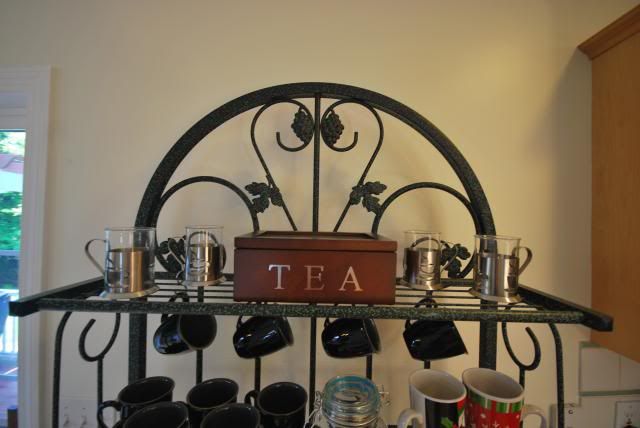 My favorite yoga teacher has this exact same tea box, and I was floored when I found it on Amazon.
It does exactly what I need it to do: which is hold (at least some of) my absurdly large tea collection.
I got a little froggie as part of my birthday present from my husband (because of the froggies we caught while in St. Louis and the little frogs and toads that we find around our house now). Turns out that, when you sit him up, he looks like a little yoga froggie. And, since the only reason why the tea box caught my interest in the first place was because of my yoga instructor, I placed my Namaste Frog on top of the tea box.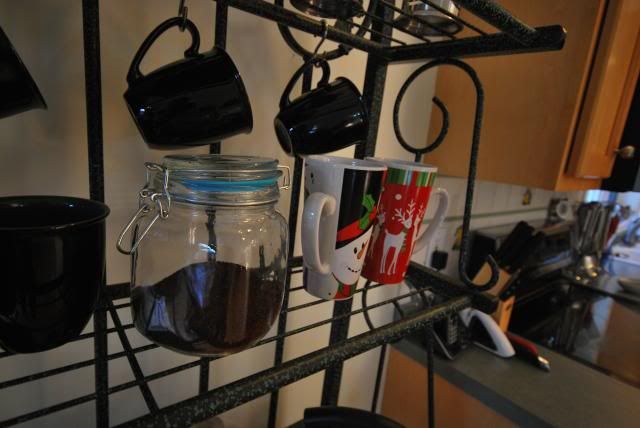 I know everyone and their daughter loves these jars, but, seriously: a nice glass jar like this is so much neater than the plastic/aluminum bags that most coffee grounds come in!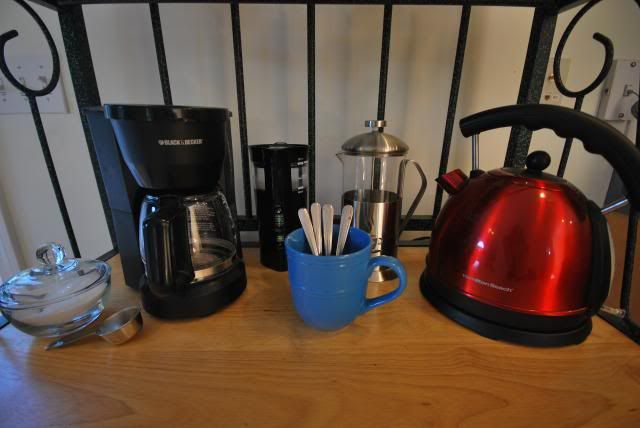 I put all my necessary appliances on the counter (my trusted coffee maker and my tea kettle), along with my coffee grinder and French coffee press.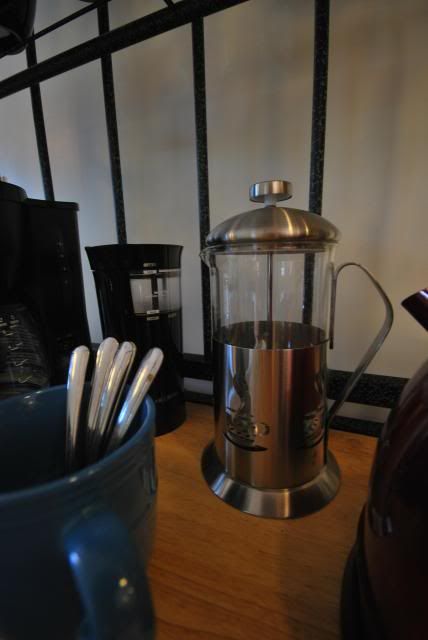 Everyone is finding ways to make coffee quicker and quicker. Meanwhile I use a coffee press. Granted, I've only used it a handful of times since I got it last Christmas, but still. It's safe to say I have not caught up with the modern world.
I used the bottom racks for my canisters and my espresso maker. I don't know what it is, but I'm obsessed with the Simple Lines collection. I got the canisters during my Ohio bridal shower, even though I use OXO containers for my flower and sugar. They now hold the rest of my tea collection. The Simple Lines pitcher is there for the cat's water.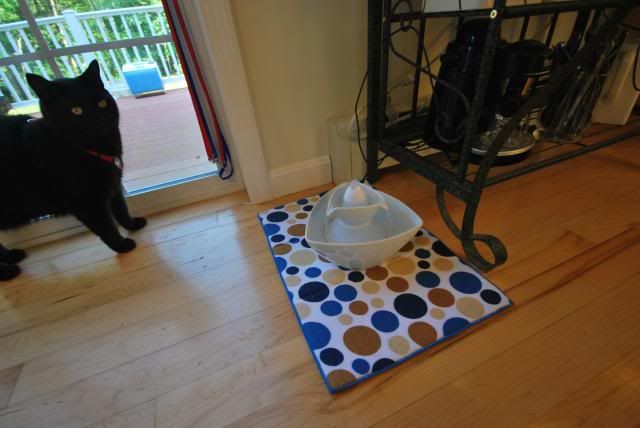 Which rests nicely on a microfiber mat. I
touched upon that
in my kitchen post. On top of being a great alternative to the plastic mats for drying racks, these are great to put under water bowls. Especially if you are me and tend to spill as much water as you put in.
It's nice to have my little coffee bar, away from the usual hustle and bustle of the kitchen. Makes coffee and tea time just a little more special.