After hinting at us since after Labor Day, the holidays are finally on us. Like a good girl, I waited until after Thanksgiving before I removed the last of my fall/harvest decorations and went into Christmas mode.
The first is the obvious: the tree. Someday we'll have a real tree but, our fake one works perfectly fine for now. We'll celebrate our first house with a real tree. And, as we see it, this metal frame can handle the cats climbing up it. A real tree in a stand? Not so much.
For the first time, ever, we have a tree topper. I found this little snowflake at Marshall's (again, one of the best places to go to when it comes to finding cheap decorations) for $14.
And of course I needed to decorate our dining room table. I replaced the table runner with a red spiral runner from the Christmas Tree Shop for a ridiculous $3. I got a small table cloth to match, which I'll get into later.
I tied some ribbon around our candlesticks, and ran another ribbon under our centerpiece. This time, I simply braided the free strands and anchored the edges with the candlesticks.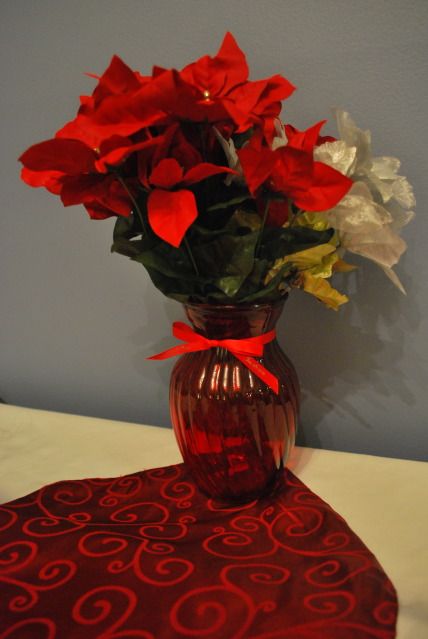 I placed some fake poinsettias in a vase and placed it at the edge of the table facing the wall.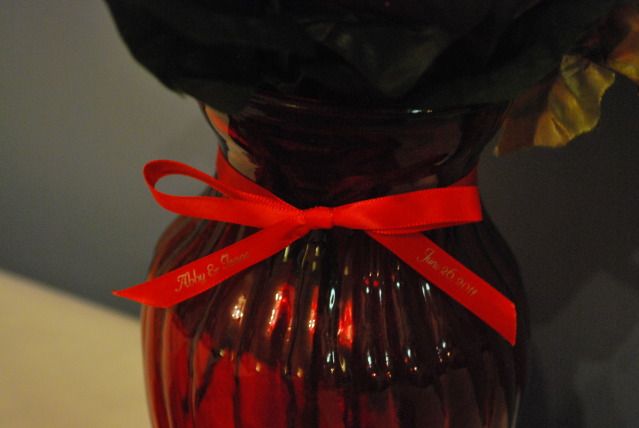 I have a few ribbons from my wedding favors leftover. I tied one of those ribbons around the vase for a bit of an accent.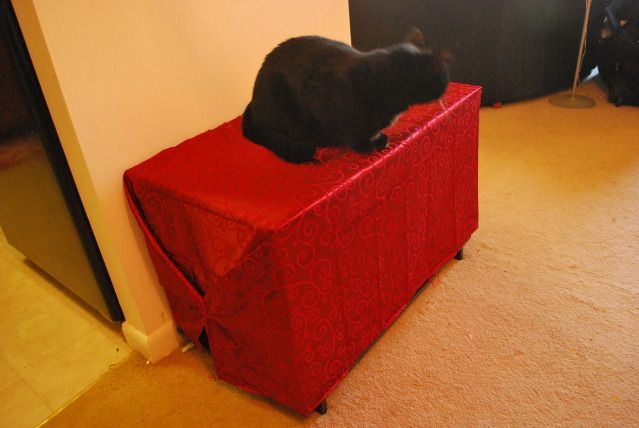 The matching table cloth was the perfect size for our old TV stand/dining room shelf. In the spirit of the Christmas tradition, I decided to "wrap" the table as well -- but more on that later.
I've always wanted my own porcelain village. And the Christmas Tree Shop had these for $2-3 a piece. I hadn't been in a Christmas Tree Shop since I was a kid (even though one of my friends works there), and I'm kicking myself for not going sooner. They are just a buffet of awesome and cheap decorations.
Another something I got from the Christmas Tree Shops was a set of small bowls for our coffee table, perfect for green and red M&Ms.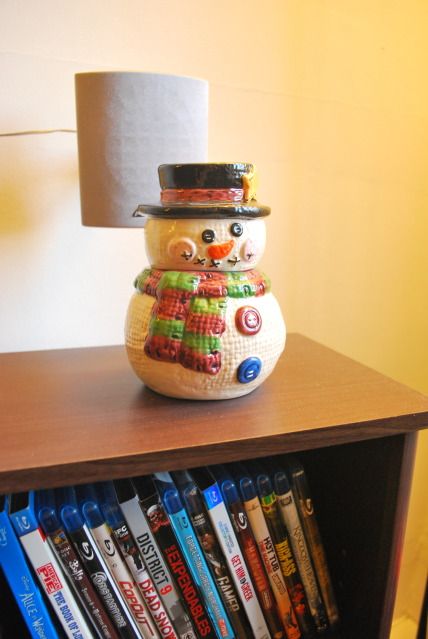 I adorned one of our DVD stands with a snowman cookie jar. I don't have any cookies to put in it, per se, but who said decorations have to be functional?
The front of our TV stand is now home to some ivy garlands with mini mason jars of poinsettias. I love these little corner pieces, if only because they keep the garland in place.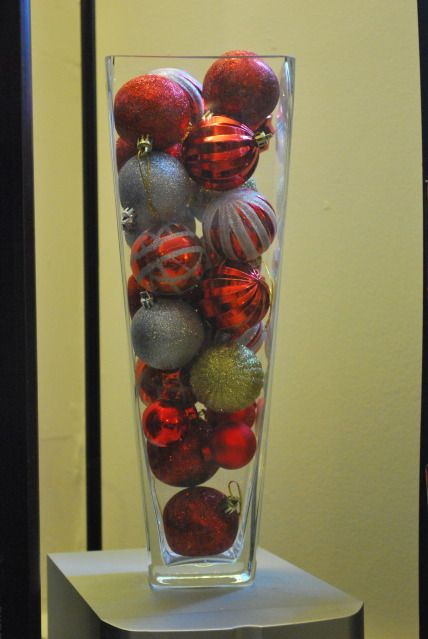 Extra ornaments? No problem, put them in a vase, like I did for our subwoofer.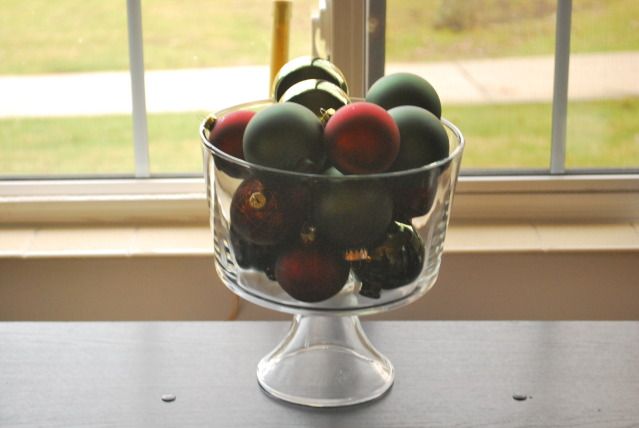 Or in a glass pedestal bowl. like I did in our bedroom.
Can't keep those window candles from staying still? If your windows slide open, wrap a plastic zip tie around the candle and wedge it in the opening.
I might use LED lights now instead of the large incandescent bulbs like my parents do, but that didn't stop me from hanging a large fake one from the window.
I found this at a Goodwill store. It's a fake lantern -- instead of oil, it holds candles -- but I love the feel of it.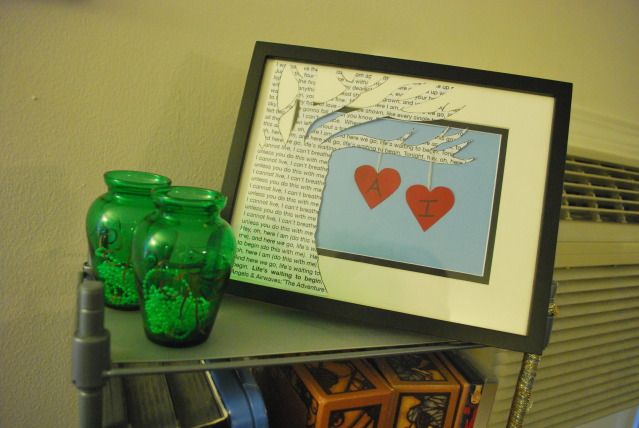 Our
first song frame
now has two small green vases to keep it company.
Our little kitchen window needed some garland as well. I got this up by hammering two nails in each corner and tying the garland to the nail. I wrapped a red ribbon around it and tied a little bow in one of the corner -- although the ribbon is more to hide the nail than anything else. You can see off to the left that I replaced the intricate vines with a simple mistletoe.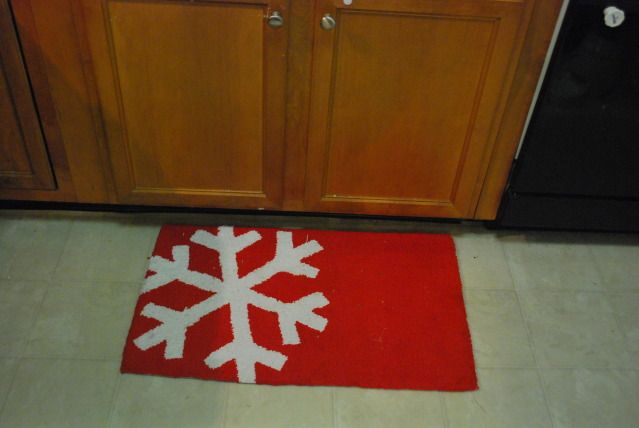 And what bit of decoration is complete without a kitchen mat?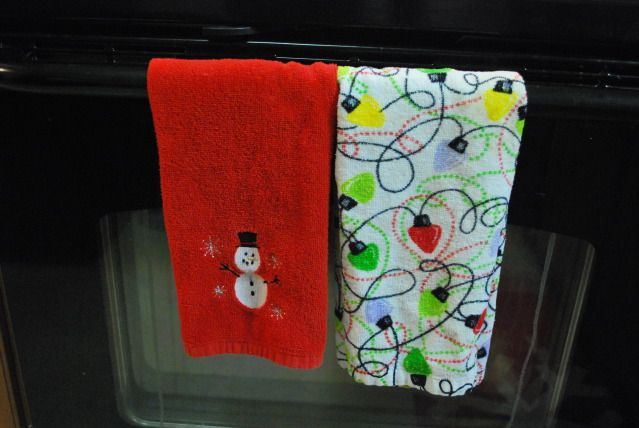 Or kitchen towels?
I actually got these two years ago after the Christmas season, when they were on sale for $2 a piece at CVS. I'm a patient person -- I'm okay with putting something away for a year before I can fully use it.
Have some extra tree trimming? Why not hang it from a doorframe?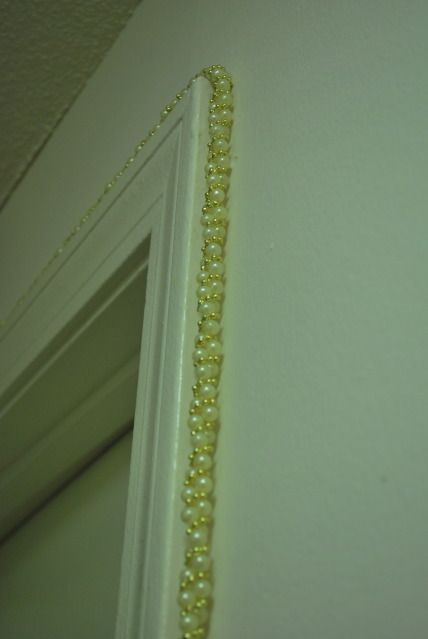 I got this from JoAnne Fabrics before I even had a use for it, if only because I'm a sucker for anything pearl-like.
This little piece is part Charlie Brown Christmas Tree, part Ice Witch. I found some twigs, spray painted them grey, and hung some cheap ornaments that I got from Five Below on it. I used some of my clear marbles (which I have way too many of, anyway), to keep the twigs in place.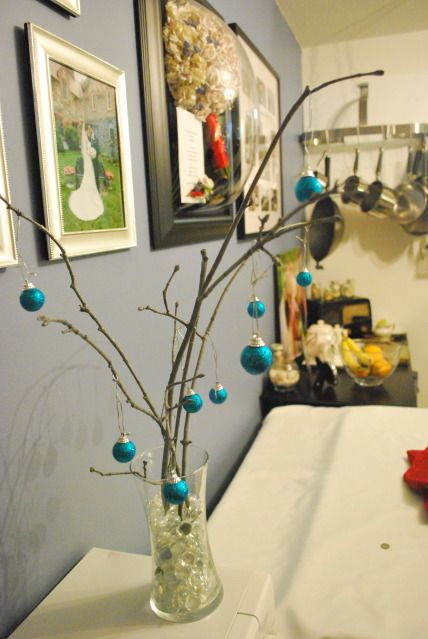 The view from where I actually have the tree, which is on top of Isaac's mini fridge and microwave -- both things that were once in his office before his company banned mini fridges and microwaves.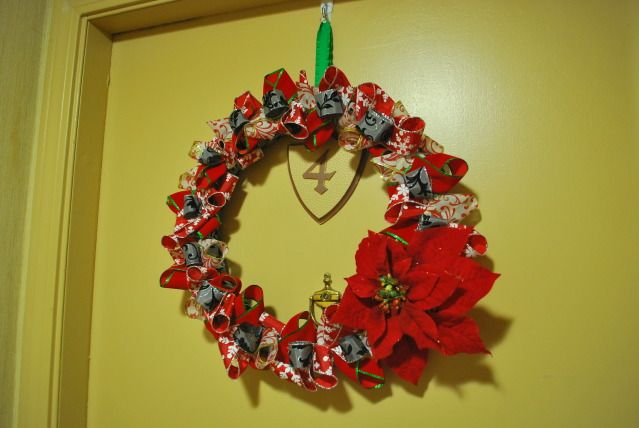 Our front door needed a wreath, so I made these little beauty with ribbon, pins and a styrofoam wreath, but more on that later.
I feel like, the more years I spend in the real world, the more into Christmas I get. Really, you're only old if you give up on the Christmas spirit. Or holiday spirit. Whatever.