Remember when I said that I wouldn't like a
necklace that was a hodge podge of metals
? I guess I got too antsy with my jewelry making and I made one anyway.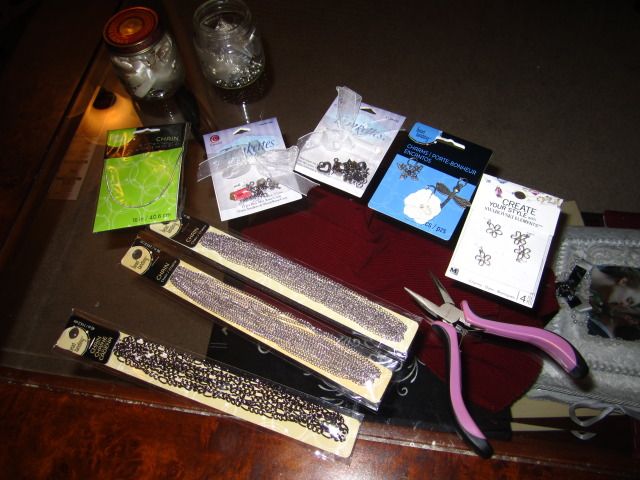 For this, I essentially cleared house: chains of all shapes and sizes, charms, jump rings, split rings, wire cutters, and plier.
I decided to be intelligent this time and properly measure out how long I wanted the chain that went around my neck. I wanted the big jump rings that held said hodge-podgery to rest just past my clavicle. I measured around my neck, stopped just past my clavicle, got 18", and cut accordingly.
I then cut the wire in the exact middle and attached a toggle and loop with jump rings. I obviously didn't factor in the length of the toggle/loop, so my chain ended up a little longer than expected.
I hooked the toggle/loop together and attached the large jump rings to the other ends.
The first part was easy enough: I cut varying lengths of chains, starting with the smallest and working my way out, and connected them to the large jump ring with smaller jump rings. I paid close attention to the order in which they went on to the jump ring. Both large jump rings needed to have mirror versions of the order in order for the chains to stay straight.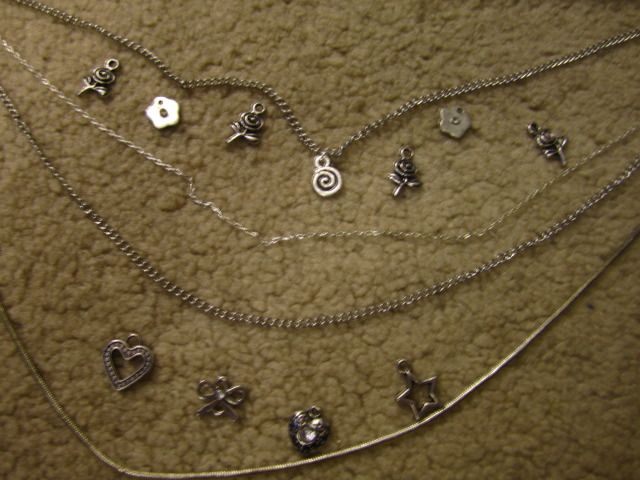 Then I decided to add some charms to the chains, which, given that they were already on an easy-to-tangle necklace, made things challenging. And, because I'm stubborn, I didn't think to just take all the chains
off
and place the charms on accordingly.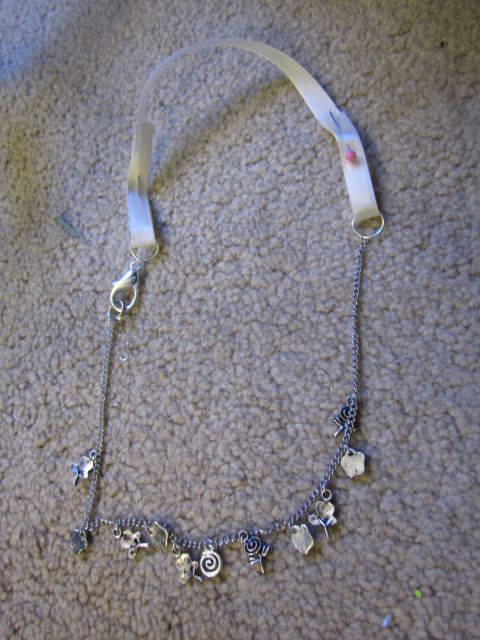 After trying the necklace on, I realized that both sets of charms made the necklace too busy. So, I pulled out some ribbon leftover from another craft, folded the ribbon over a jump ring and sewed the ribbon edges onto the jump rings. I attached the chain to one end and a lobster clasp to the other. I then attached a split ring to the chain and
viola
, instant necklace.
To top everything off, I attached a flower pendant to one of the jump rings, situated nicely in the middle of the chain order.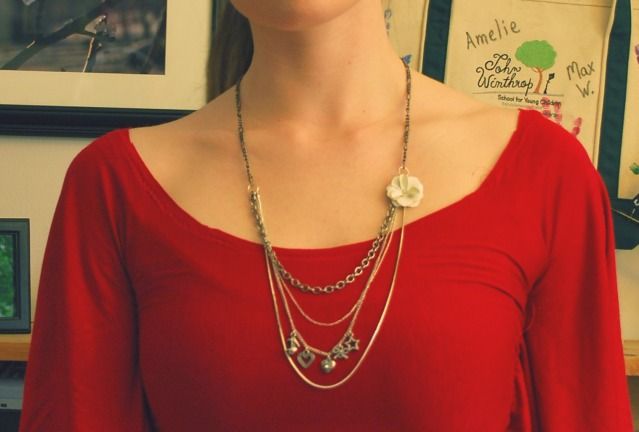 One thing I've noticed about long, busy chains, is that they work really well with strapless dresses (or solid colored
circle shirts
). Common hat to anyone who has been a proper feminine girl, but wonderful news to me, who spent her formative years climbing trees and having her Barbies hide out in bunkers while the rest of Barbieworld dealt with nuclear war.
The unintentional second necklace works great as well, and is casual enough to go with anything, like my
diced up shirt
.