I've always wanted to get into clothing making, but my extreme lack of experience has hindered me a bit. Thankfully, I found
this incredibly easy design
via Pinterest.
All I needed was a yard of fabric, scissors, and various sewing paraphernalia (sewing machine and pins, to be specific).
The website I got this from suggests a jersey knit. I made a beeline to the "dance and swimwear" section of JoAnne fabrics and found a nice, stretchy cloth. Basically, if it won't fray when you cut it, you're in the clear. But cloth with nylon in it with make it more comfortable to wear.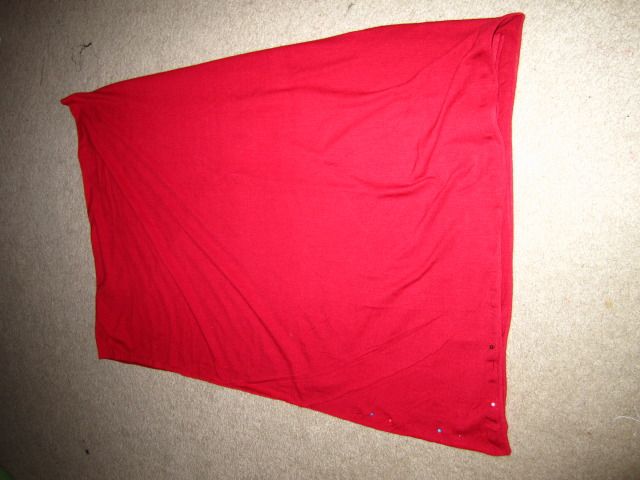 I folded the shirt in half the long way (so that, I'd have half a yard hanging from my shoulders) and pinned the corners into place. Or, should I say, it was time to
PITS
.
I then made circular cuts around one corner opposite of the fold. To keep the shirt looking symmetrical, I folded the shirt in half and cut around the edge of the first cut.
To make the collar, I took one of my favorite shirts and placed it in the middle of the fabric, up against the fold. For the back portion of the collar, I simply cut both ends of the fold along the edge of my actual shirt. I then placed the shirt to one side and cut the front portion of the collar in the same style as the actual shirt.
Now, as you can see, my actual shirt's collar is very deep. What I forgot is that the "actual shirt" has zero give to it. This nylon blend?
Lots
of give. I tried on the fabric to see how the neck hole turned out, only to end up giving a free show to my cats. Instead of panicking, I moved forward with the project, all the while playing out how I'll fix this gaping hole for a collar.
The next step was to sew up the sides. I decided to use the same shirt as a reference. Giving myself an inch on each side, I pinned up the shirt, stopping about half a foot before the fold. Much like the original creator of this shirt, I made my lines curvy instead of straight and parallel.
And then, I sewed, paying close attention to
stop
sewing once I ran out of pins.
The nice thing is that the shirt is tight enough that the horrendously deep dip in the collar turned into a nearly-off-the-shoulder shirt. Pair it with a long, busy necklace, and I'm ready to terrorize teenagers at the mall. Although I'm not exactly sure know why I'd do that.