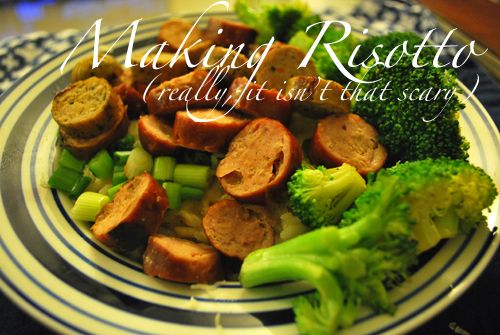 I am a huge fan of "Hell's Kitchen". Not only is it one of the few reality show competitions where everyone is judged purely on their actual
talent
(not on their ability to strategize, backstab, and appeal to the 40-something soccer mom crowd), but it also makes me want to
cook
. Specifically, cook the common foods in the show.
Quite easily the most common dish on "Hell's Kitchen" involves some sort of risotto. I had never cooked risotto but, judging from how often the contestants mucked it up, it looked quite difficult to do.
But, how does that bit of advice go? Do something every day that scares you? Or at least: do something every day that you're guaranteed to muck up as well?
So, for this particular dish, I used:
Arborio Rice (aka uncooked Risotto rice)
Chicken Broth (for the risotto) -- you are going to need around 4-5 cups of broth for every 1 cup of risotto
Spicey Chicken Sausage
Scallions
Peas
Cooking risotto turned out to be pretty easy…once I got over the overwhelming fear I got over needing two pans to cook rice. I had just figured out how to cook regular rice without burning it -- and now I need
two pans
to make this complicated contraption?
But it's okay. In a sauce pan, pour in the chicken broth and keep the broth on a low heat. In a flat pan, melt 1 tablespoon of butter with 1 tablespoon of oil. If you'd like, you can take this time to sauté finely-chopped onions.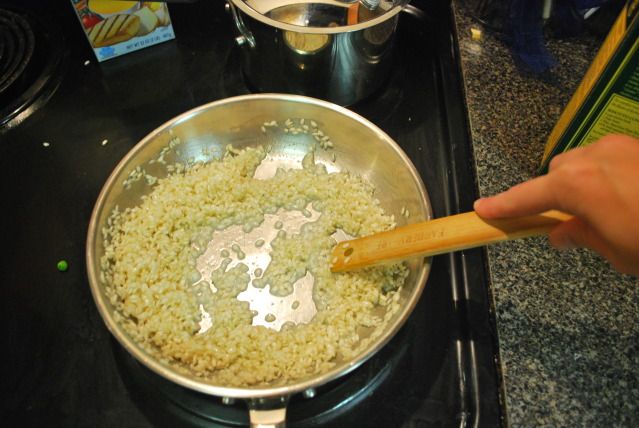 Now it is time to sauté the risotto. Pour in the risotto (I recommend making no more than 1 cup of risotto your first go-around) and stir. It is recommended to use a wooden spoon so as to not break the rice. I don't own any wooden spoons, but I do own a strainer with a wooden handle! Sauté for roughly 2 minutes, constantly stirring with your wooden spoon/handle (and while we're at it, why not bust out an old ruler to stir…)
Now, slowly add in the broth, one ladle-full at a time. Briskly stir in the broth until it is fully absorbed before adding more broth.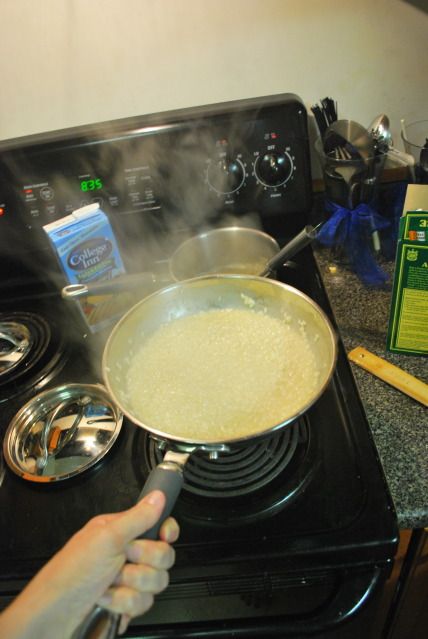 In an homage to the constant risotto-flipping in "Hell's Kitchen", I made sure to get a few pan flips and shakes in myself.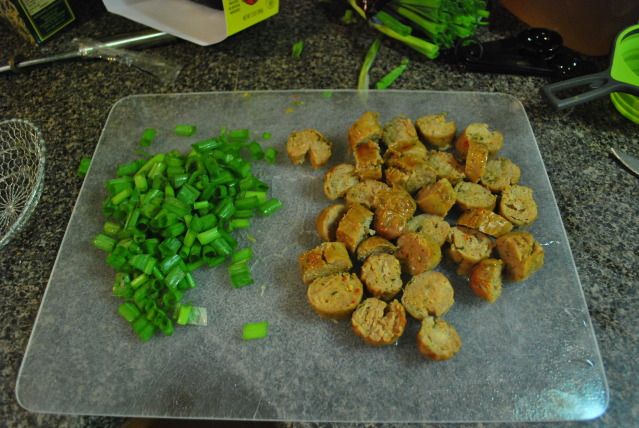 The nice thing about risotto is that you can add essentially anything to it. Just consult the 8 seasons of "Hell's Kitchen" for evidence (Hell, for the most recent finale of "Hell's Kitchen", one contestant created a scallop risotto, combining the two most common dishes into one nightmare of an appetizer). For this particular dish, I cooked up chicken sausage, boiled some peas, and chopped up some scallions.
Continue cooking your risotto, adding ladles of broth for 20-30 minutes. You'll know your risotto is done when:
- The rice takes on a creamy consistency
- The rice has a firm bite to it, but isn't crunchy (much like regular rice)
Mix everything together and serve.
The only drawback to risotto is that it doesn't keep well, so eat up once it's ready. Which, when paired with amazing ingredients like spicy chicken sausage and scallions, that's not a hard thing to do.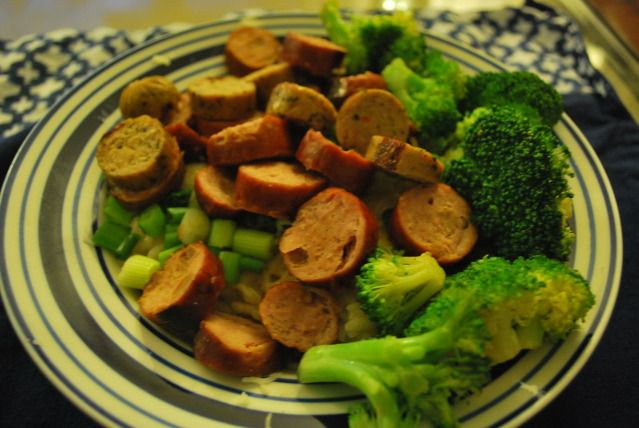 And, really, you can add anything to it, the same way you can add anything to rice. Another thing you can do is sprinkle a layer of shredded cheese. Here's another dish I made -- roughly the same as before, only with cheese, hot sauce (
Valentina's
, of course), and broccoli.