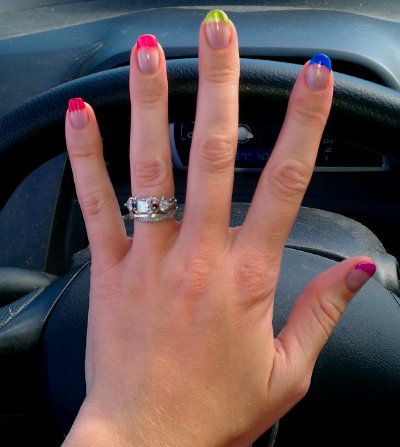 Honestly, this happened mostly because I wanted to do my nails for my birthday and I had long run out of white nail polish. I still had all those colors from my
Tetris nails
, so why not get a little colorful?
French manicures are fairly simple once you get the hang of it. Apply two or so coats of nail polish to the top 1/3 of your nail. Let them dry
completely
before soaking a Q-tip in nail polish remover and slowly "erasing" the nail polish from the bottom up in a broad C pattern. If you have long nails, stop just short of the whites of your nails. If you have short nails, stop when you are roughly half a centimeter away from the edge of your nail.
Again, give yourself another 10 minutes to let the nail polish remover dry
completely
from your nails before applying a top coat.
As a sidetone: I decided to knock another thing off my bucket list and went hang gliding for my birthday. It was an absolute blast. Pictures coming soon!