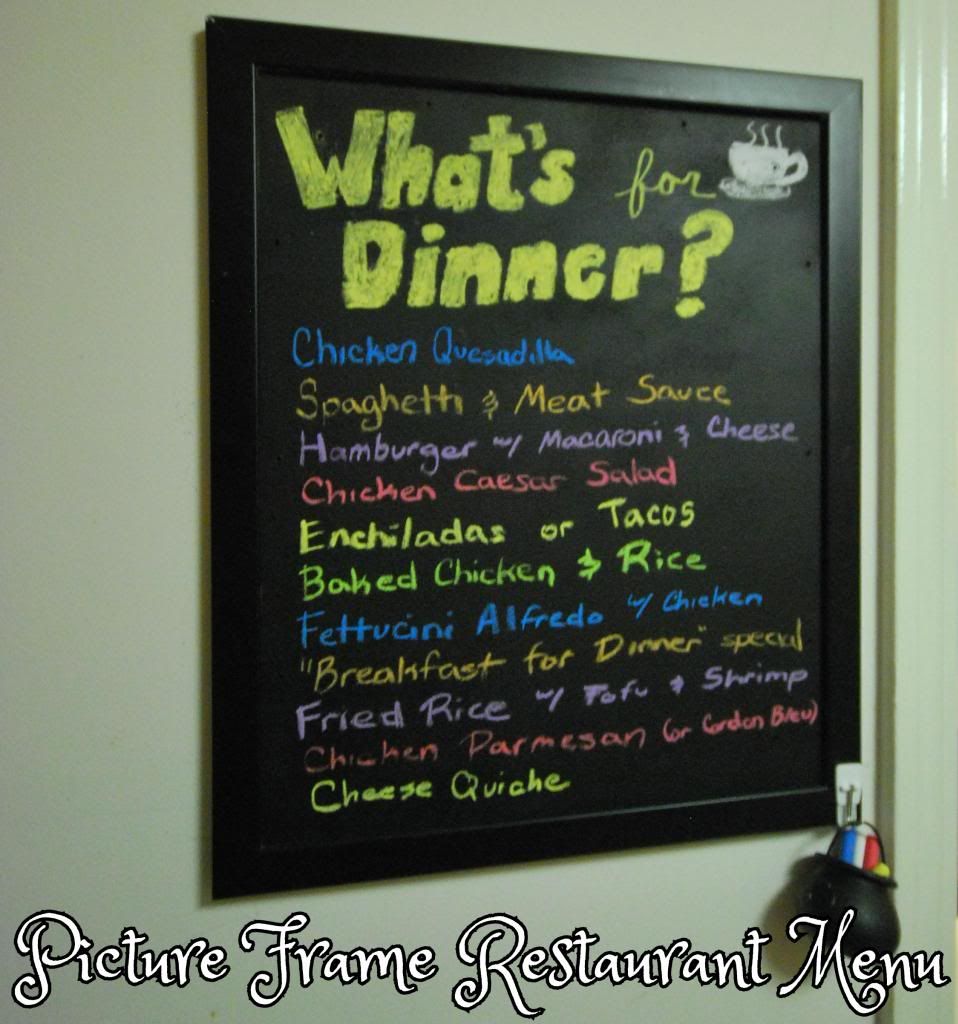 This is one of those projects that came along as the result of a blatant failure.
This was originally an excuse to use magnetic paint, creating an organizational heaven with just a few adhesive magnets. Now, I'm going to give the paint the benefit of the doubt. Maybe I didn't shake it enough. Maybe I put it on wrong. Maybe all of my magnets are actually dudes, working only on refrigerators due to their penchant for overeating. Either way, I had a non-magnetic, magnetic picture frame.
So what do you do in a time like this? Flip the glass portion of the frame over, bust out the
remaining chalkboard paint
and create a restaurant menu.
The frame was found in the "As Is" section of Michael's. This $50 frame was on sale for $11 because some of the edges were a little dinged up. I had no issues with a scratch here and there. If anything, given the project, it would give the board some character.
The spray painting is fairly simple: remove the glass from the frame and prop it somewhere where you can spraypaint without messing everything up. You are best off painting lots of thin coats of spray paint. Thick coats with run, crinkle, crack -- it's just not pretty. Thin coats dry fast (meaning, if you're painting outside and there's a flash storm, you're probably in the clear). It's okay if you still see the glass after two or three coats. Simply focus on those areas with the next coats. Again -- don't pile on the paint. Especially in humid weather. You will regret it.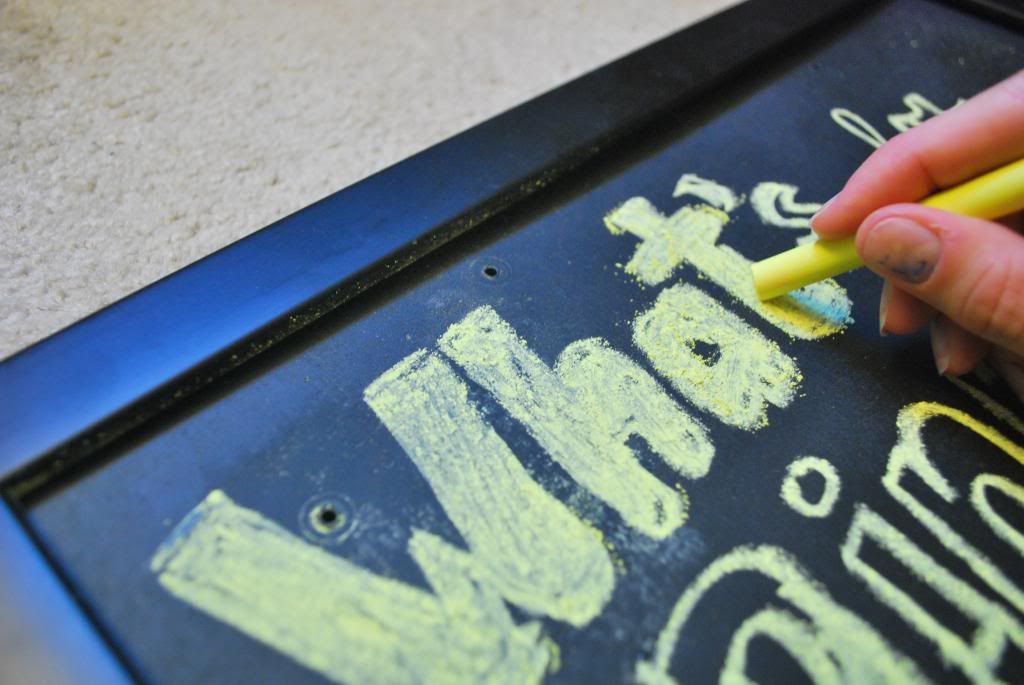 After everything is dry, place your glass on a hard surface and write up your dinner menu (do NOT assemble the frame first; you will break the glass!). I went with all the usual meals my husband and I eat -- simple meals that we could whip together if we were at a loss for what to make that night.
I suggest "breaking in" new pieces of chalk by rubbing the top corner against a piece of paper, soften the edges.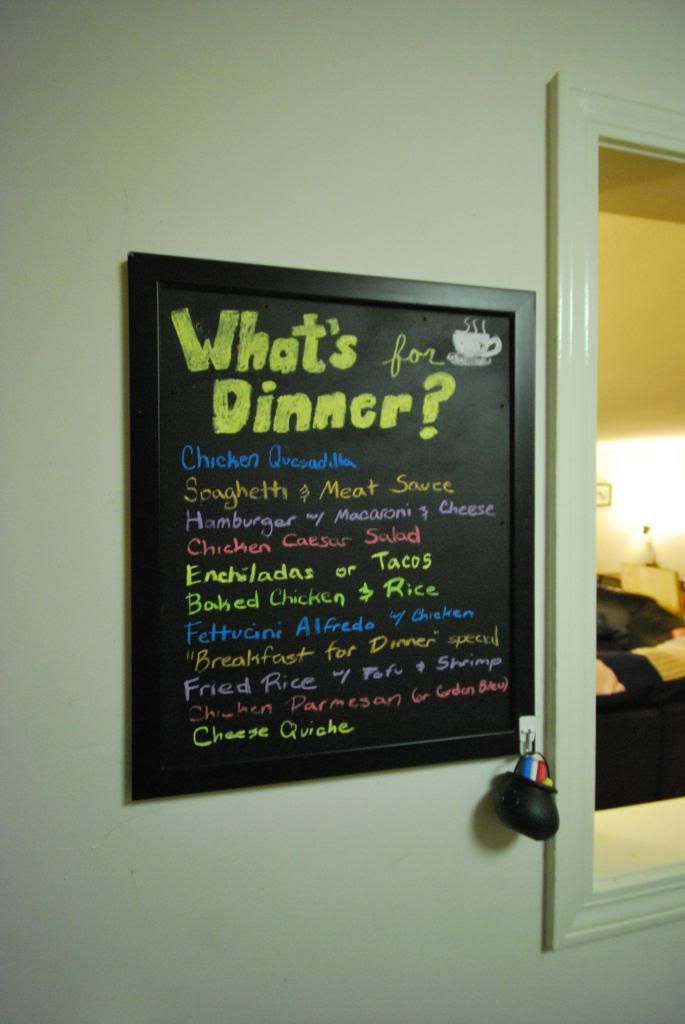 As a little accessory, I placed an adhesive metal hook (leftover from my
necklace curtain holders
) and attached a little black cauldron (which was actually a "pot of gold" as part of
my cousin's wedding
) to hold a few pieces of chalk.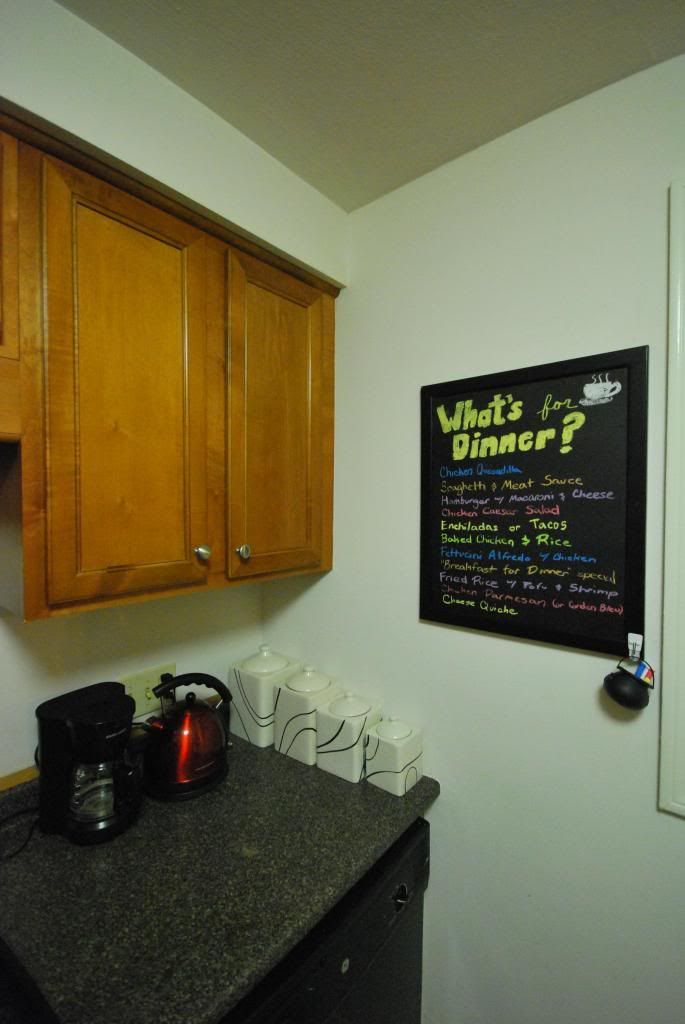 My husband and I have come a long way from our days of "cheese quesadillas or … call up Papa Johns." At least now we have something to consult when we don't know what to have for dinner!