My cousin's wedding in North Carolina was incredible. The weather cooperated, the bride was gorgeous, and the couple couldn't be cuter together. Getting on and off the island was an adventure, to say the least: while trying to get to the island, we missed a 10 a.m. ferry by 7 minutes. We drove an additional 5 hours, from the south coast all the way to the north, looping around the beginning of the string of the islands until we reached a second ferry (which thankfully ran every hour), because it was quicker than waiting around for the 4:30 ferry in the first location.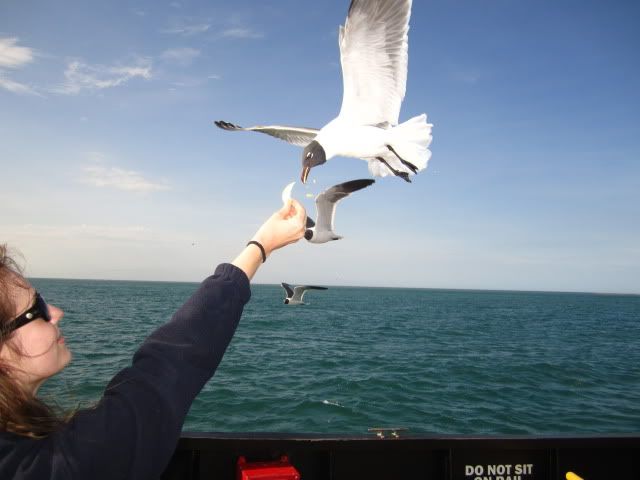 However, the trip over was incredibly fun, once we finally got on a ferry. Sea gulls and a type of black-headed bird -- the likes of which are never seen in New England -- followed the ferry along. We were able to feed the birds simply by raising hands full of chips up in the air. I was blown away by how close they came to us. Fearless doesn't even begin to describe these birds.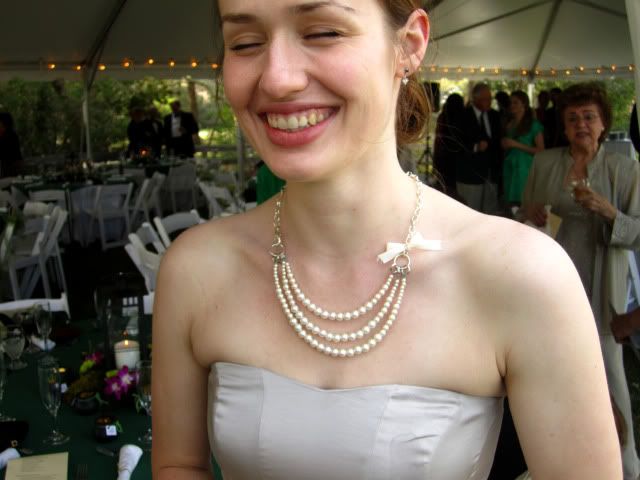 I decided on a different dress for the wedding, but kept on
the same necklace
. Two of my aunts-in-law noted my necklace and asked where I got it. It shocked them to learn that, not only had I made it, but the pearls were actually lustered beads. In a family full of arts-and-crafts individuals, it's nice to be complimented on something I made myself.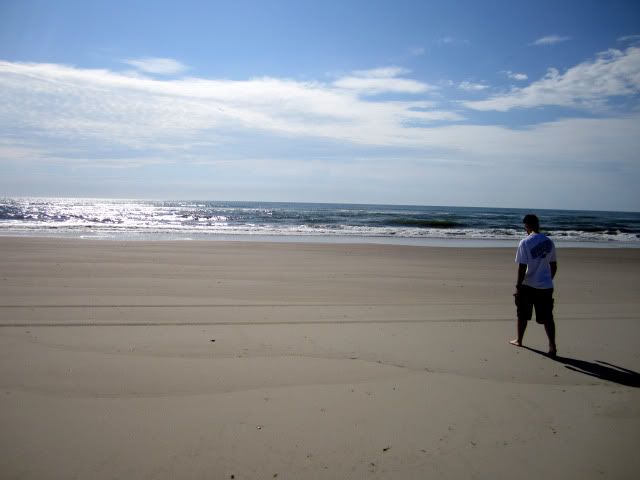 The best part of being on an island in March is that, since it was before the tourism season started, the beaches were deserted. My husband and I didn't have much free time, but we saved one morning for Tai Chi practice on the beach, followed by seashell collecting and just laying around.
That small moment of relaxation was needed, as a thick fog rolled in the morning we were supposed to leave. This meant that none of the ferries were running. We needed to be on a ferry by 12 at the latest to make our 7:30 flight in Raleigh. It was 12:45 by the time the fog lifted and we got on a ferry. Thankfully, North Carolina has lots of long stretches of highway and, with me on the lookout for speed traps, we made a 5-hour drive in under 4:30. We made to the airport in record time and, thanks to a small line at check-in and security, even had time to do some quick souvenir shopping (but more on that later).
I was hoping for a nice mini-vacation in North Carolina, and I got some interesting stories to tell instead.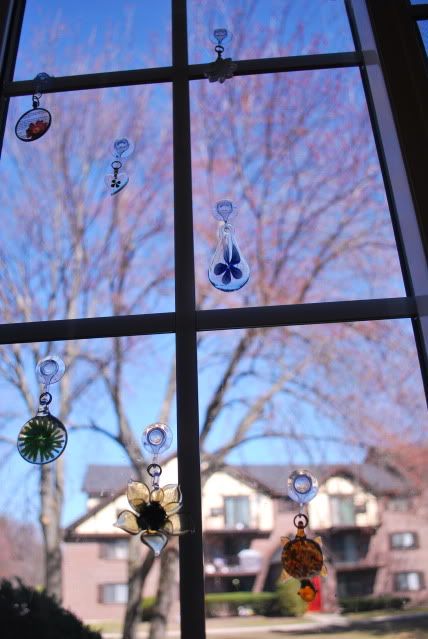 I also added some glass pendants to my collection of
glass pendant sun catchers
and rearranged them on my window. I wised up and used jump rings for the newest ones, making the project much, much easier.