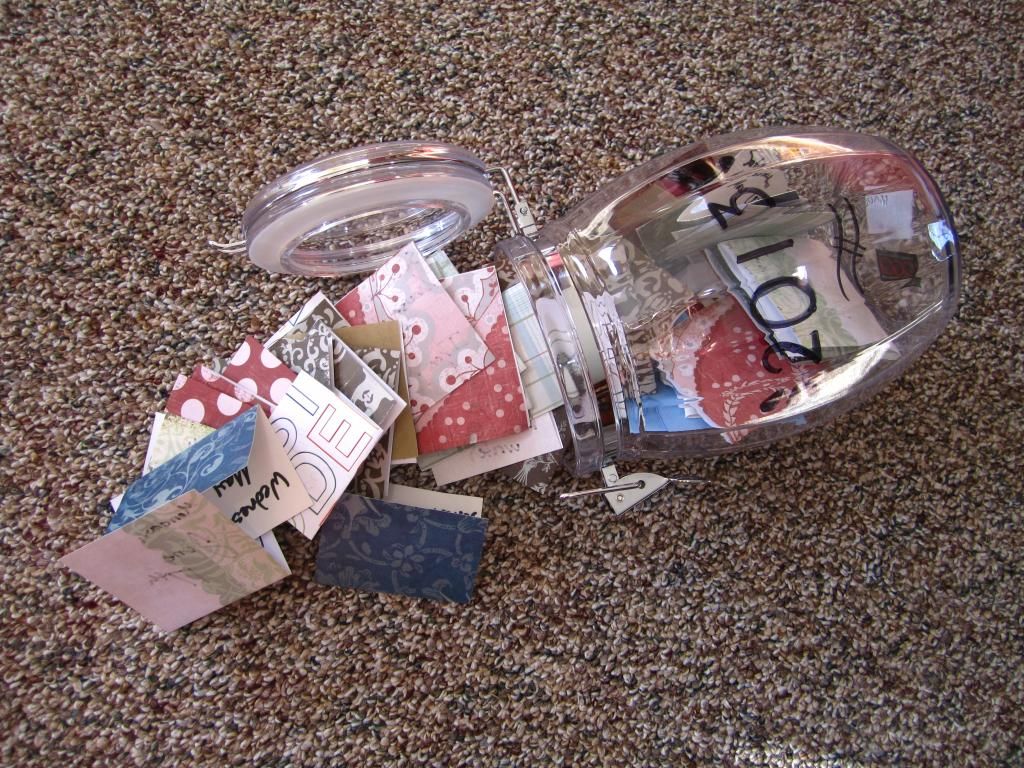 I picked a good year to do the
Year in Review Jar
. Granted, it wasn't easy to keep up with it (my dry-erase calendar became my "to write down" calendar, forcing me to do the project at the end of every month before I erased the marker), but this year has been pretty intense:
It was the year I left preschool teaching
. I make no bones about the fact that, to this day, I am still coming to terms with leaving the profession I swore was tailor-made for me. But a change was overdue (way overdue) and I don't regret leaving it in the least. If I had to give 2013 a title, it would be: "The Year I Learned It's Okay to be Lost."
It was the year we bought a house.
I'm still amazed at how quickly (or relatively quickly) it all came together. One minute we're saving every penny we can, the next, we're closing on our house. And while the homebuying experience left little to be desired, we couldn't have asked for a nicer house in a nicer town.
It was the year we drove across the country and back.
I'm all about knocking at least one thing off my bucket list per year, and this year it was the cross-country drive. I'm still posting pictures from it (because I took just that many) and it was an experience I won't soon forget. I realized I had judged a lot of cities wrongly (like Salt Lake City or Cheyenne) while other places were exactly what I expected (like Reno). We then drove to Ohio and back for Christmas, because every good cross-country drive needs a good cross-1/3-of-country drive to complement it.
It was the year I got signed to a new agency.
And to an agency that rejected me when I first started out modeling. The path that getting me signed has been a pretty stellar one. I'm not exactly raking in the dough (or flying off to Milan), but working in a Volvo commercial and getting to audition for names like Saks Fifth Avenue and Neiman Marcus is not a bad way to be.
It was the year that I finally got to call myself a writer with some authority.
From two viral essays, to winning NaNoWriMo for the second year in a row, to working with a website's publishing house for a potential e-book/collection of essays deal, I can finally call myself a writer and have the chops to back it up. I still don't make a living with it, but it's a long way's away from shrugging my shoulders and going, "Well I have this blog...and I write stuff that no one has read..."
It was the year I learned just how much I love Boston.
The bombing attacks shook me to my core, proving that you never know how you are going to respond when it's your town they attack, when it's your streets that are littered with debris. The attack brought us all a little closer together, made us appreciate what we have a little bit more, and motivated us to go just a little be farther. I know I'm not alone in the newfound motivation to run distance in the name of their city.
2014 is shaping up to be just as insane of a year. From the Chicago marathon to my new tai chi job to going back to school to become a registered yoga teacher. I'm looking in a few new avenues for my writing, so we will see how that goes. I like living interestingly, even if that means being stressed or frustrated or confused, so here's to an exciting and eventful (and interesting!) 2014.