Christmas Eve might be tomorrow, but that won't stop me. If you are still looking for decorating ideas, you've come to the right place.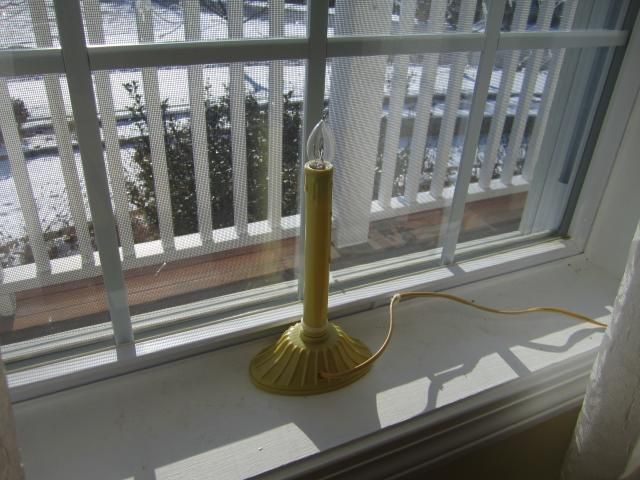 I want to put this one first because it's probably the most ingenious idea. Invented by my husband after the cats knocked down the candles for the 50th time, this is a foolproof way to keep your candles in one place. Place a plastic ziptie around the base of the candle, and wedge the end of the ziptie into the window. You can add a second ziptie to the cord to keep the cord from getting in the way.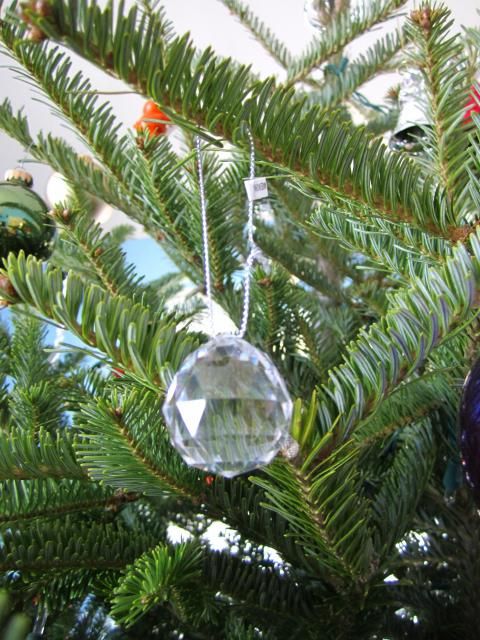 Since this is our first Christmas with a house, this is also our first Christmas with a Real Tree. I'm not one for tinsel, but I do love getting that extra shine. The solution? Crystal (or, in this case, glass) balls that help reflect the Christmas tree lights.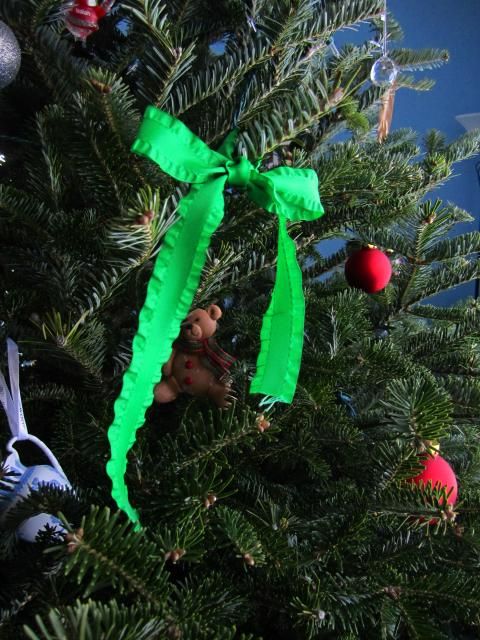 I have more ribbon than I know what to do with. Simple solution? Tie bows into the tree. Since the fake tree was a lot more sparse than our real one, so it was nice to fill the rest in with ribbon.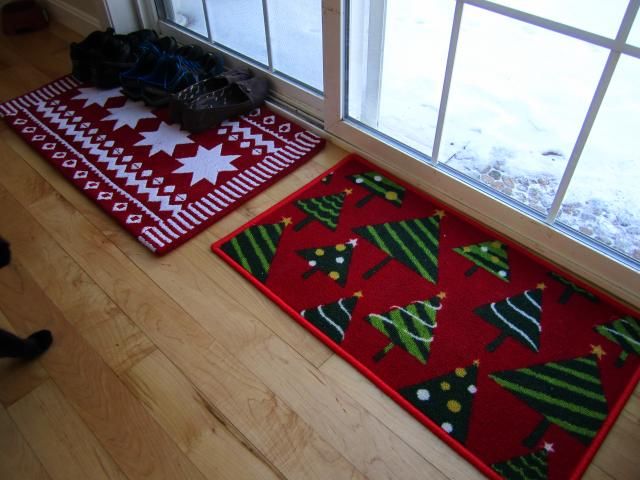 Between feeding the chickens and going on my runs, our back porch gets way more traffic than it should in the winter. That's why I got a standard floor mat for wiping off shoes -- as well as a bathroom mat to store the shoes. I figured a bathroom mat would absorb the wet snow a lot more than a regular mat, meant more for wiping off the yuck more than anything else.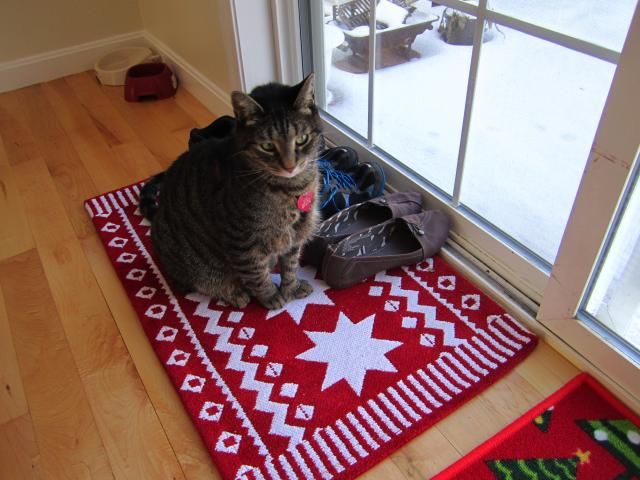 And of course sometimes those mats are meant to absorb fat chihuahuas with identity issues.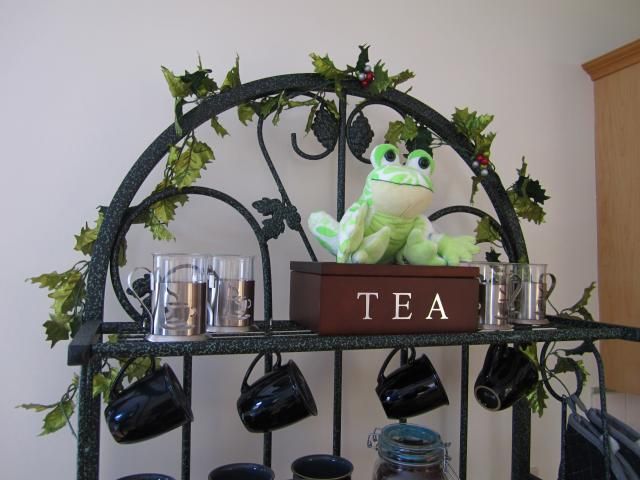 I looped the holly around my
coffee bar
, because I learned the hard way that garland over the kitchen cabinets is more hassel than its worth.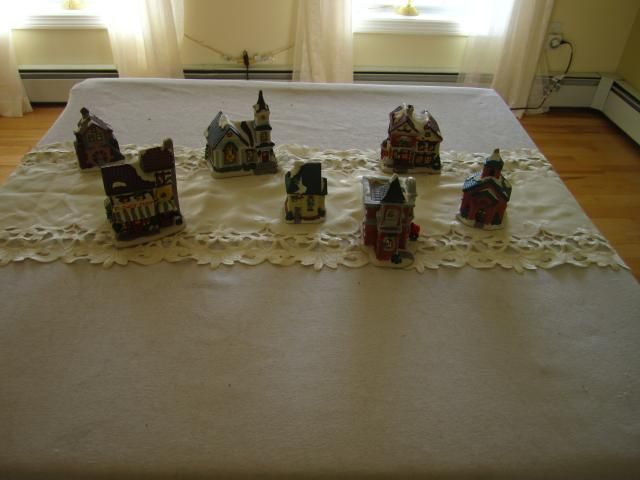 It's funny, going from an apartment where you feel like you are one purchase away from completely bursting out of, to a house where you don't even have enough furniture for all the rooms. Our dining room now hosts a decorative side table and a card table in the center and little much else. So, why not turn the dining room into the showcase for a tiny Christmas village?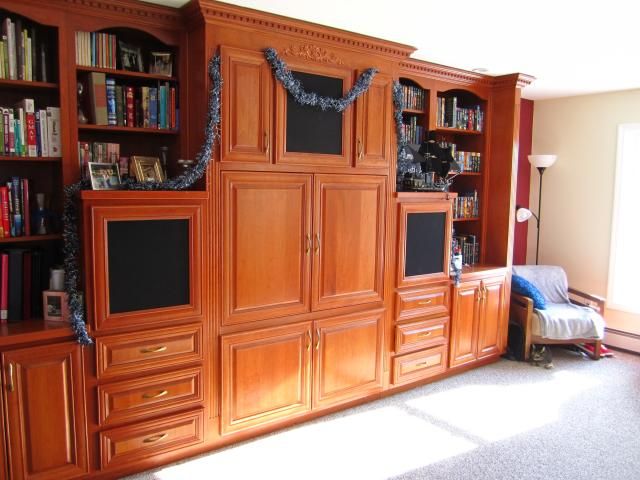 The infamous library room. Once a place where we stored all our boxes in our move, now a place where we store my husband's vast collection of books (not pictured: three full-sized shelves filled to the brim with sci-fi and fantasy books) and we (at least I) work out. It's tough to decorate a room that is used so pragmatically, so I just looped a silver tinsel garland over the cabinet doors.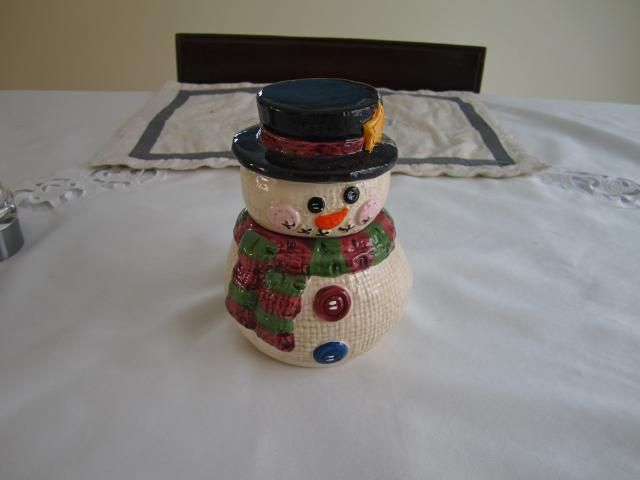 I love centerpieces on our table, but both my husband and I prefer to have as little on the table as possible. The solution? Snowman cookie jar as a centerpiece (not pictured: the Christmas "Joy" placemats I got at Target.)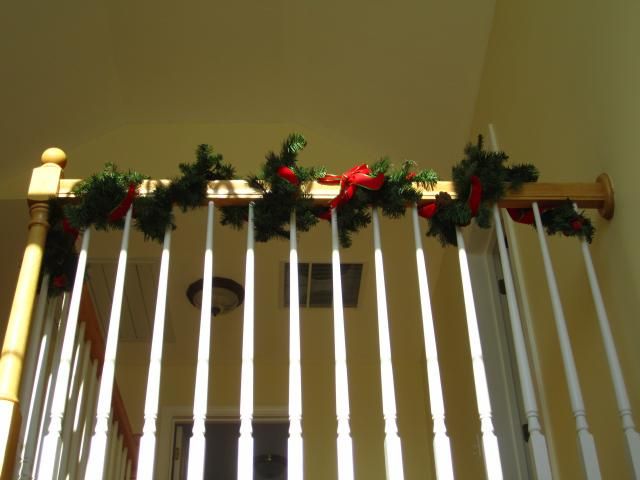 I love the open foyer in our house, and I was psyched to decorate the railing facing the door with garland.
I love garland, but I worry about the gaudiness of using too much of it. Solution? Use the garlands made of pearl-beads and wrap it around a bannister.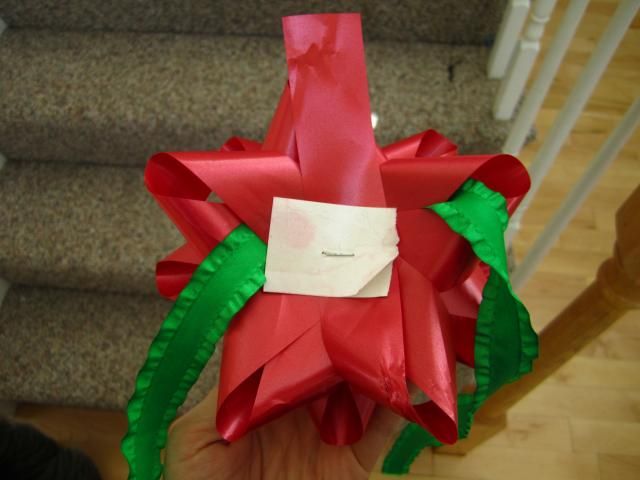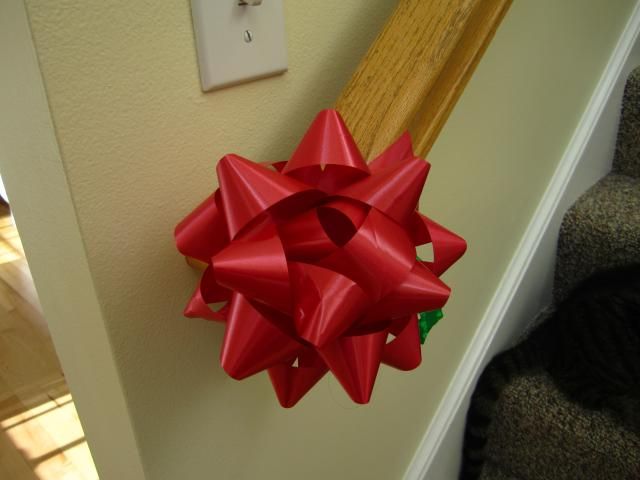 The red bow was facetiously bought when I finally got a car of my own (being a Bostonian, I hadn't own a car since high school, and I biked everywhere after our initial move out of the city). Because, as I saw it: Lexuses get the big bows -- Subarus get a $2 one from Target. But, being the sentimental person that I am, the last thing I was going to do was throw it away or use it on someone else's present (and have them throw it away). I decided to accent the other handrail with it instead. All I needed to do was feed a ribbon through two of the back loops and tie it to the base of the handrail.
This slowly-dying kitchen mat is now at our front door. Just a little extra guard between the snow and my house (which I still treat like my baby).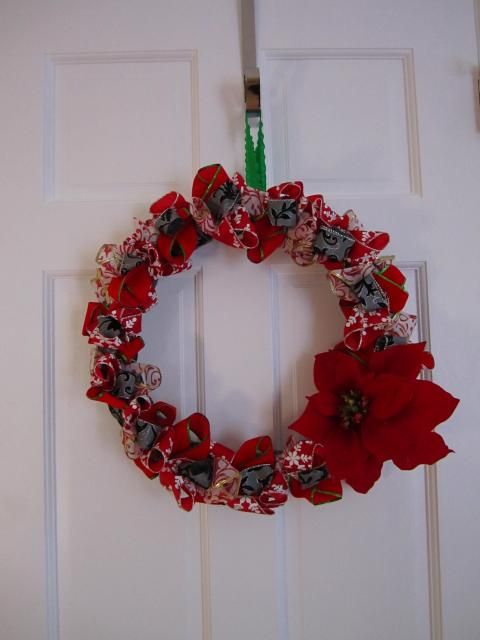 Hey, remember my
Ribbon Christmas Wreath
? It has found a home on the front of the basement door. Since the garage is in the basement, that door is used more than our own front door. So why not spruce it up a bit? (And it definitely looks a lot less depressing in a house with white doors and lots of natural light, as opposed to a dank apartment complex).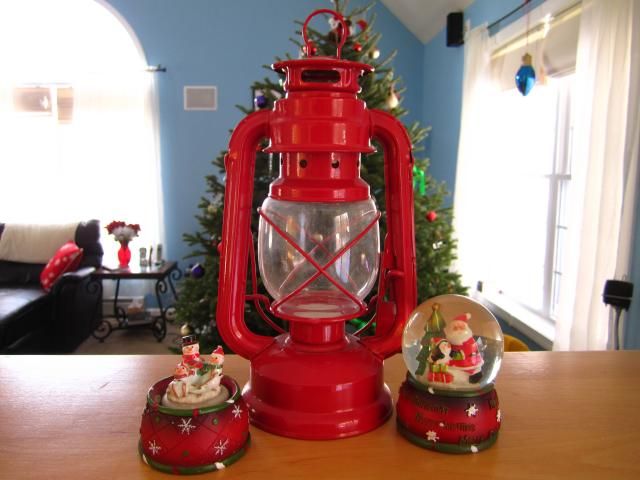 I found this little lamp at Savers -- essentially a GoodWill+. One of my snowglobes broke, but instead of throwing it out, I just (carefully) removed all the glass and turned it into a miniature figurine on a pedestal.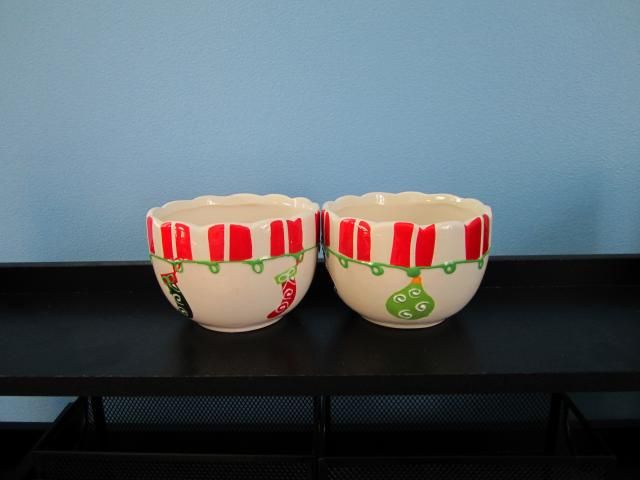 These little bowls I got at the Christmas Tree Shop a while back. Perfect for M&Ms.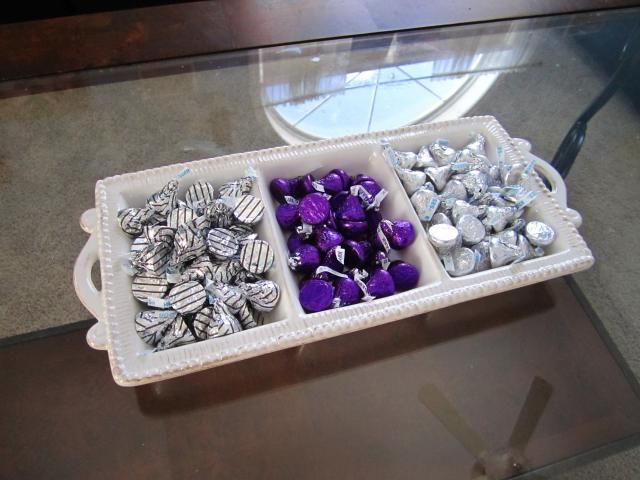 And, on our coffee table, I found this little Christmas tray at the Hobby Lobby, which now houses 3 different types of Hershey kisses (can you tell someone in this house as a sweet tooth?)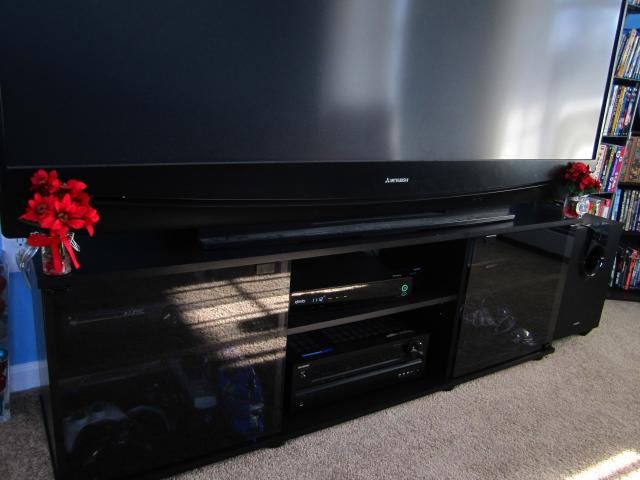 My husband isn't exactly a fan of putting garlands in front of the TV, so I compromised with a few small jars of fake poinsettias.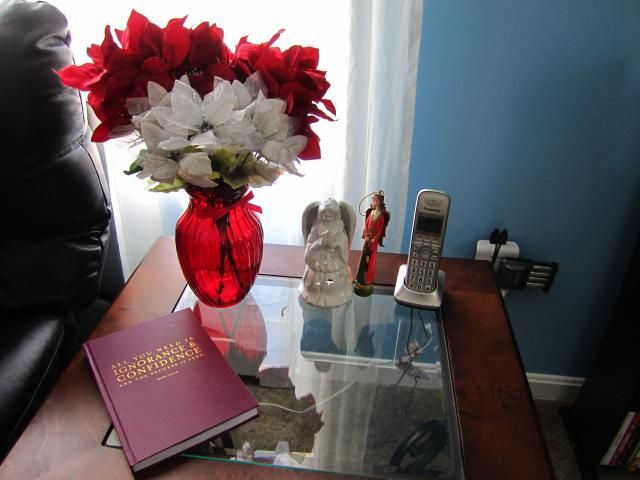 Speaking of fake poinsettias, I accented our side table with a vase full of them (as well as the angels from my husband's grandmother and, of course
my charging station
.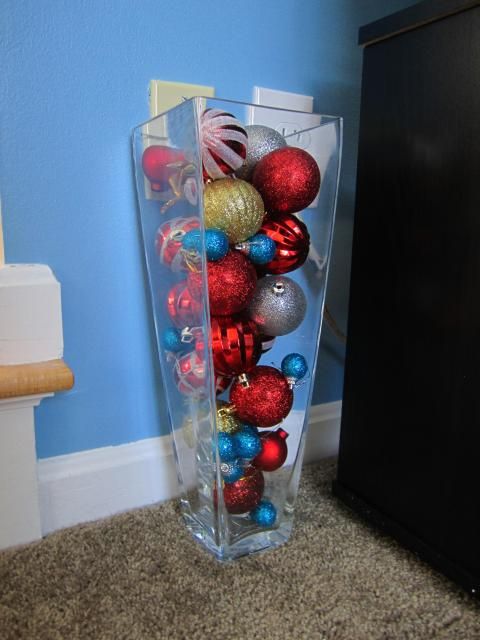 Extra ornaments? Put them in vases. Excuse to buy more ornaments
and
more vases.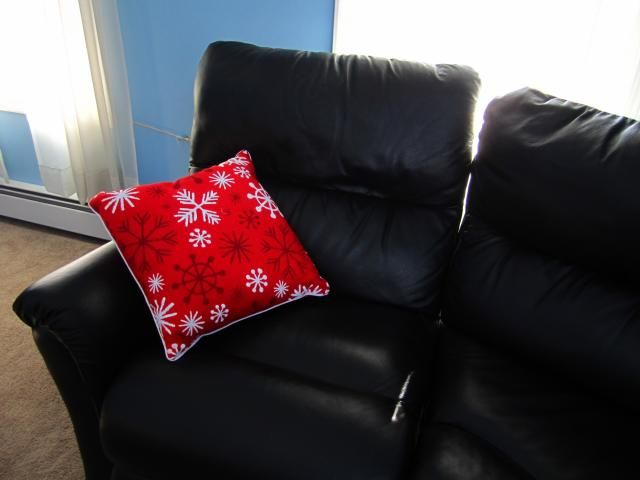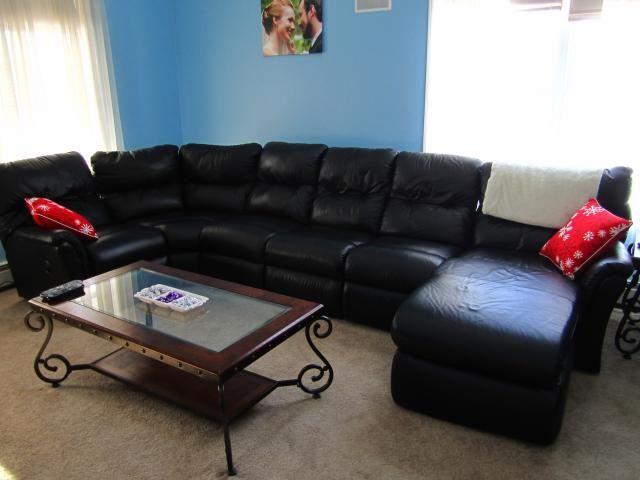 I'm pretty sure I'm in the vast minority of people who actually use their throw pillows. They're decorative in their own right, but, come time to sit down and watch TV, I am snuggling that pillow like a Harry Harlow monkey.
Ideally, I would've down a bunch of long exposure nighttime shots to show our Christmas lights. But, alas, things have been a bit nutty, so a quick shot with my point-n-shoot will have to do. Not pictured is the green garland that I have wrapped around our mailbox and the column on the opposite side of the driveway (which promptly disappeared under the snow after the first blizzard).
I hope you all have a great holiday season! If I don't find the time to edit a few more road trip photos, I'll see everyone in 2014!