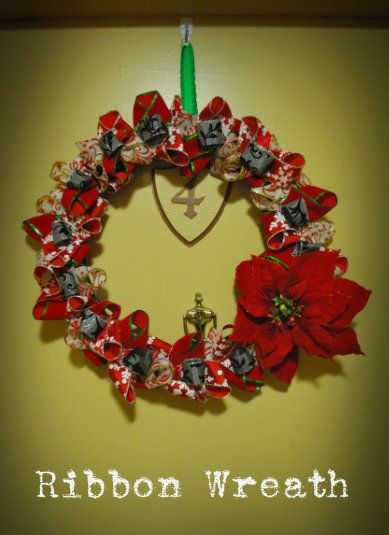 Even though we're still renting an apartment, I wanted to adorn my front door with a Christmas wreath. And I decided that I wanted to make my own.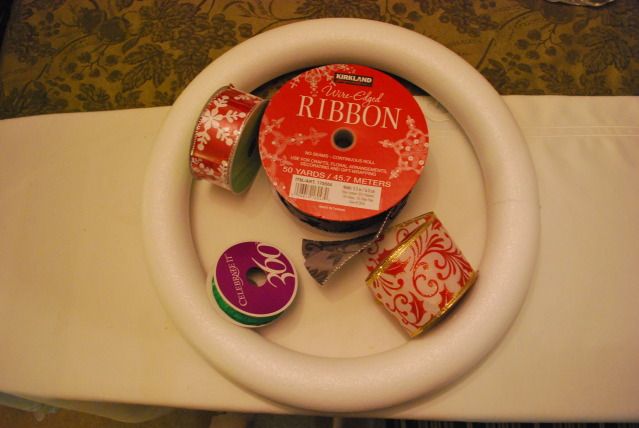 For this project, I needed:
- ribbon
- pins
- thimble
- scissors
- styrofoam wreath (which can be found at any crafts store)
- adhesive hook (again, any crafts store, hardware store, grocery store…)
I first wrapped the wreath in ribbon. This is as simple as pinning the beginning of the ribbon on one side of the styrofoam, angle the ribbon, and wrap.
Wrap all the way around, and, while holding the beginning portion in place, remove the pin, place the ending of the ribbon on top of the starting ribbon, and pin both in place.
For the "leaves", I cut small portions of ribbons and wrapped them in a half-figure 8 position (so that they look like the top part of a support ribbon). And pinned them directly onto the wreath.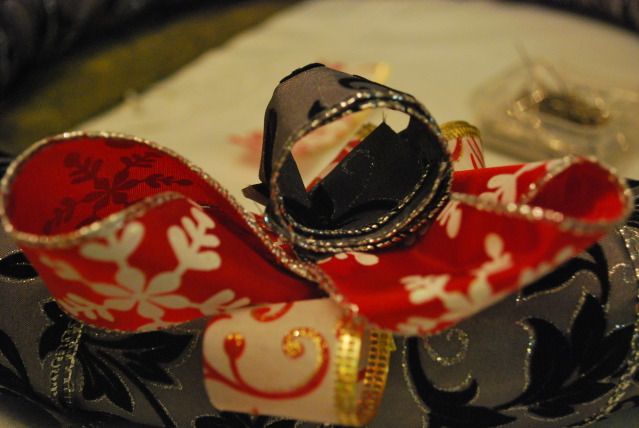 I arranged these leaves in circles of 3 or 4 leaves and accented the center of each with a circle of ribbon. This is where the thimble kicks in. The more ribbon on your wreath, the harder it gets to put the pins in, leaving you with blisters on your index finger and thumb if you don't incorporate a thimble.
I kept going around the wreath, making these little ribbon flowers. I'd make tinier versions of the half figure-8 and circle to fill in any of the gaps, or add to any areas that needed a little extra flourish.
After figuring out how the wreath would hang, I pinned a loop of ribbon to the back of the wreath. I played it save and put in a good 10 or so pins. Better have fewer pins than a wreath that crashes.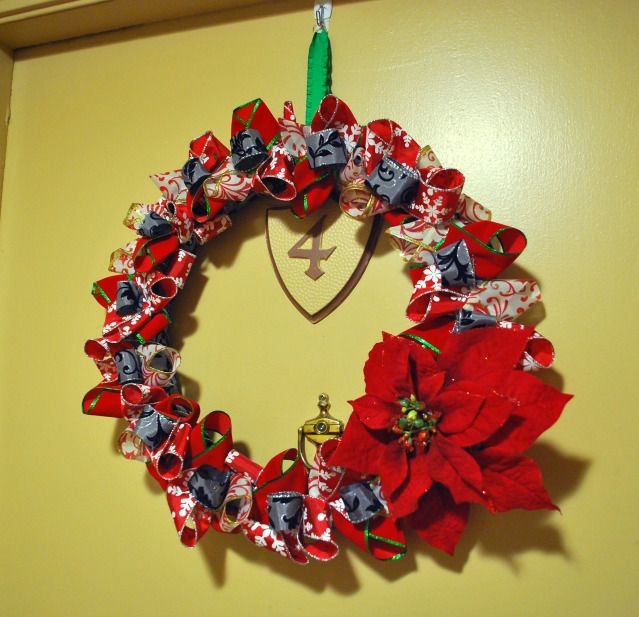 I attached a split ring to the ribbon, a hook to the front door, and a poinsettia to the lower left side. And I love it, even though the only people who are going to see it are my apartment neighbors and my house guests -- er, apartment guests.