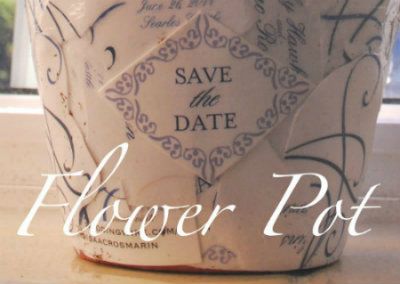 I had promised myself I wouldn't touch my extra wedding stuff ever again. I mean, I had a
mini meltdown
over cutting up RSVP cards. But, given that I had stacks and stacks of old Save the Dates, I felt I was in the clear.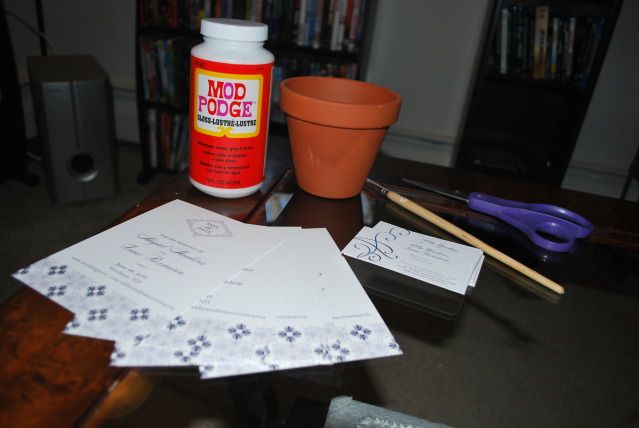 For this, I needed: Mod Podge, paintbrush, a flower pot, and enough Save the Dates/Registry Business Cards to choke a termite.
I first cut and tore as many Save the Dates/Registry Business Cards as I felt was necessary. Some cuts were random; others were more intentional (like cutting out the border on our Save the Dates, which I was saving for the top border of the pot). It was all about what designs I'd like to see on the pot (like the swirls from the business cards, or my husband's and my name).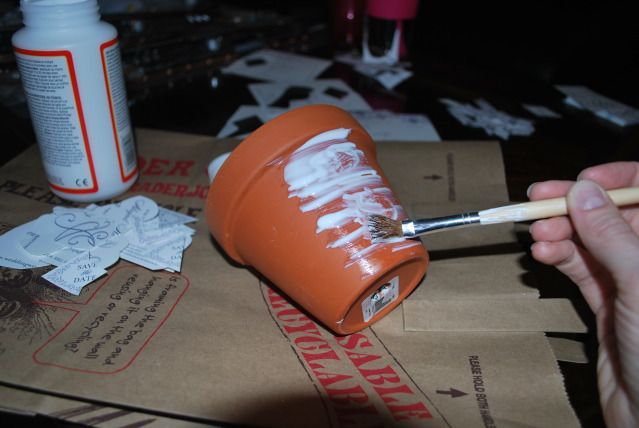 And then -- I Mod-Podged! Using Mod Podge is incredibly simple. Remember those years in grade school when your teacher yelled at you for using too much glue on your projects? Mod Podge is the universe's apology. Paint a layer of the glue on a section of the pot, place the pieces down, and paint over the pieces of a layer or two of this wonderful decoupage glue.
Since the cards and Save the Dates were made of fairly thick cardstock (and were being glued onto a curved surface), I had to hold the pieces in place until the glue dried a little bit. This usually only took 10-15 seconds at the outside.
In the end, I did about two layers of decoupage, making sure every nook and cranny of the pot was covered.
As a bit of a centerpiece, I cut out one of the "Save the Date" diamonds and glued it to the center of the pot.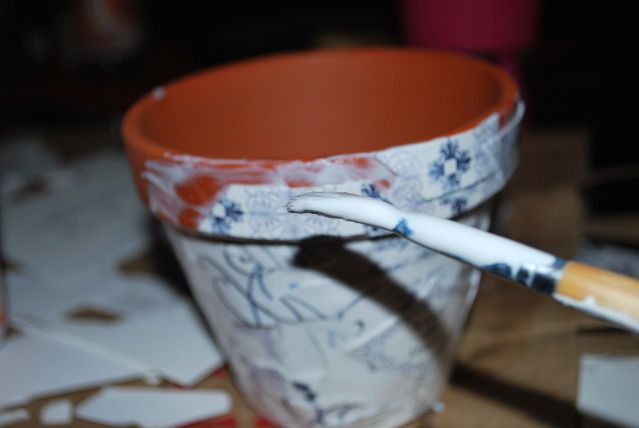 After gluing the first section of the pot, I focused on the border. This took a little more time as I was dealing with a narrow section and uneven pieces.
Since the decoupage didn't, in actuality, cover
every
nook and cranny, I got out a small paintbrush and painted the edges (as well as the top portion of the inside) of the pot white.
This was a great success. I wasn't teary-eyed over cutting up anything, and the results were terrific. I picked up a nice Hyacinth potted plant at Trader Joe's and adorned our window with the final result. Now the question is: how long until my cats knock it down?