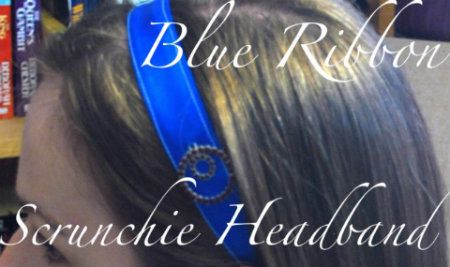 I made a scrunchie headband
in honor of my amazing grandma-in-law
. I decided I wanted to try another one (this time without any connotation).
So, I got out my: blue ribbon (which I still had some left over from my wedding, even after doing crafts like the
bangle
), my rotary cutter, a scrunchie, and my fabric measuring tape. I bought a flat pendant as well, just to up the ante.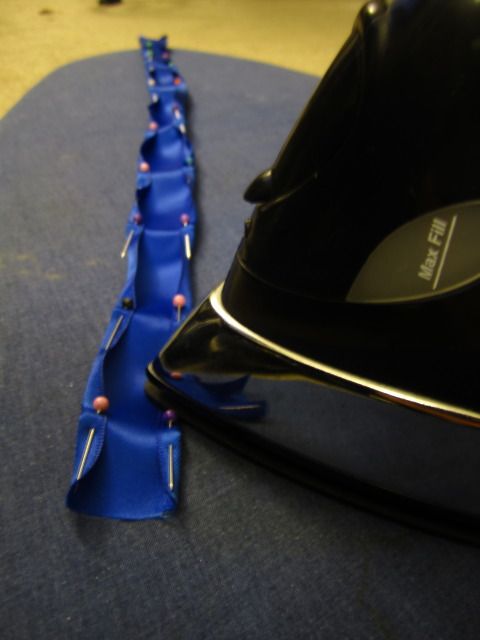 Like the first project, I measured my head and cut about an inch more of ribbon than my circumference. I then pinned each side over. I placed the flat pendant on the ribbon to see just how much I should fold over. Then I -- very carefully -- ironed the ribbon into place. Lesson learned: do not use pins with plastic heads. Twice I had to peel a flattened pin from the iron.
Sewing the hem was difficult, to say the least. This ribbon was more cloth-like than the purple ribbon. It wanted to unfold in ways that are illegal in some countries. The hem sewing was a very, very slow process.
Like with the previous headband, I folded one end over the scrunchie and sewed it into place. I then pinned the other side and (very carefully) tried it on, adjusting it until it fit right, and sewed the other side into place. Remember that everything should be flat and the folds should be facing the same way.
After I was done, I sewed on my pendant. I decided I wanted it on the lower left side of my head -- but only after putting on the headband and moving the pendant around my headband like I was trying to heal a headache with crystals.
After sewing the top portion into place, I sewed a few loops onto the bottom, just enough to keep the pendant from moving around.
I really like the grown-up-Matilda vibe this headband gives me (even though her ribbon is red). I don't know anyone who can tie a ribbon in their hair and have it stay in place (unless they're in the Trunchbull's tree and the wind blows it into a branch), so this is a great alternative.