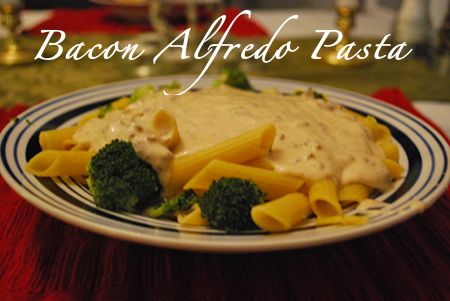 I think I loved this project so much because I spent the entire cooking sipping on champagne. This was actually
back when I need champagne to kill a set of flies
that couldn't have conveniently died with the first batch of autumn air. There's something about sipping on champagne, singing every song on your iPod (getting more and more into it, but more and more off key, with every sip), and cooking that makes me want to watch an 80s chick flick. However, I do apologize if some of the pictures lack any real … photographic merit. Like I said, sipping on champagne the entire time I cooked.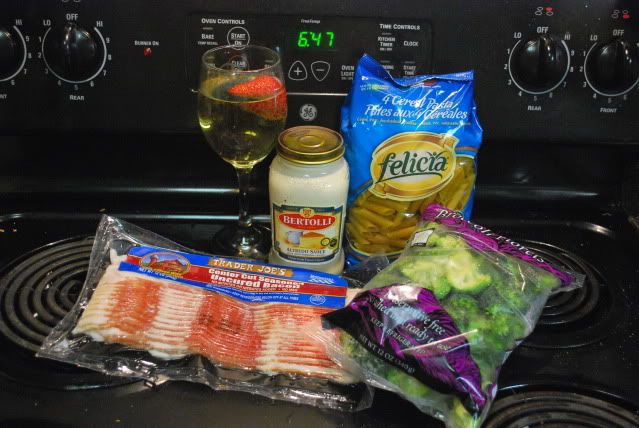 So for this, you need bacon, broccoli, Alfredo sauce, and penne pasta. I love Felicia gluten-free pasta. It's a rice/corn flour pasta. While nothing holds quite like corn pasta, I've yet to find it in penne form, and this is pretty amazing in and of itself. And, if you'd like, a glass of champagne with a strawberry in it.
First, cook your bacon. Actually, the right word is
burn
your bacon. The more cooked your bacon is, the more it will crumble. And since I prefer my bacon overcooked anyway, it made sense to just leave it in the pan a little longer to get a bit of a char to it.
Once your bacon is cooked, pour your Alfredo sauce into a saucepan and crumble in the bacon. Set the burner for low and just let the sauce combo simmer.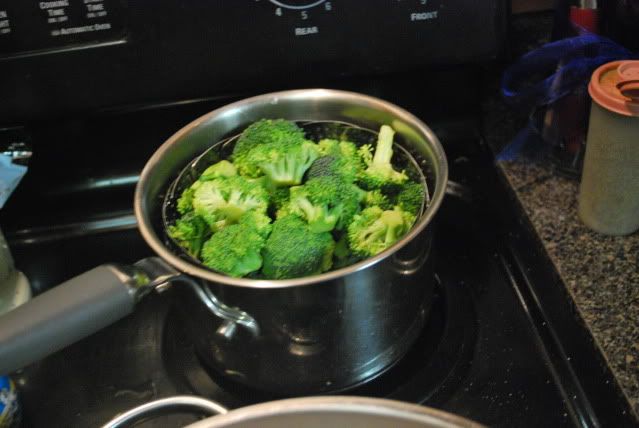 Now it's time to set the pot to boil for the pasta. Once the water is boiling and the pasta is cooking, prepare another saucepan to steam your broccoli. Steaming broccoli is a lot easier than it appears. All you need is a saucepan with about a centimeter of water in it and a strainer. Open the strainer in the saucepan (you'll know you have the right amount of water if the surface of the water just covers the legs of the strainer, but never goes above the strainer's floor). Cover it up and set the water to boil. Once the water is boiling, add the broccoli, re-cover the pan, and let everything cook for 3-5 minutes (assuming the broccoli isn't frozen).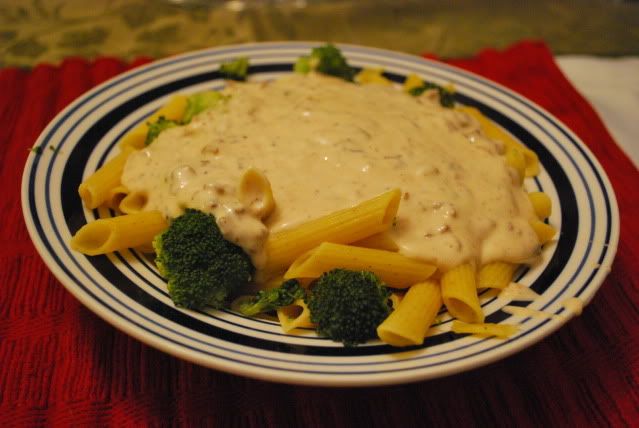 Now, it's just a case of prepare and enjoy! The bacon's rich (let's be real: epic) flavor will have made its way throughout the entire sauce. And it might just be the semi-drunkard in me talking, but no pasta sauce tastes as good as pasta sauce with a little bacon in it ;)