This is a tale of two paints.
This project is simple enough: all you need is a glass container and chalkboard paint.
Now, the question is -- what kind?
This was originally an accident. I went to a small crafts store originally, and all they had was Martha Stewart's green chalkboard acrylic paint (when I was looking for black chalkboard spraypaint).
So, first things first: Green chalkboard paint.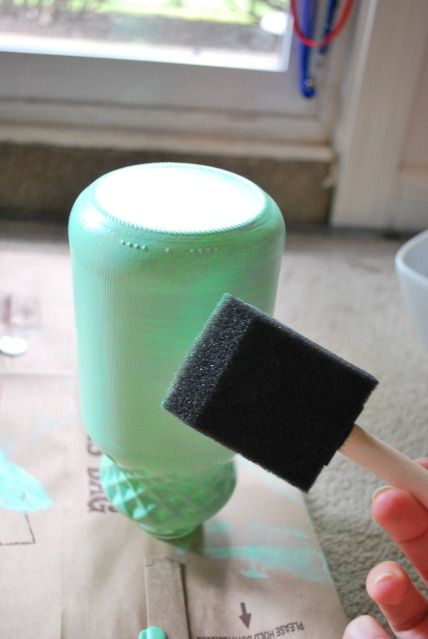 The green chalkboard paint took a long while. I did a layer of paint with regular paintbrush before realizing how easy it was to use a sponge. The sponge was also very helpful with all the nooks and crannies that this glass container had. I would do a coat of paint, let it dry for an hour, and repeat the process at least 3 or 4 times before flipping it over and getting all the parts on the bottom that I missed.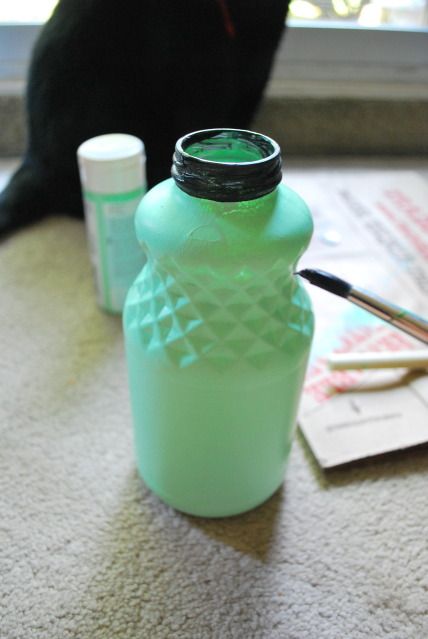 After everything dried, I decided to accent the rim with paint.
I then stopped by my local Michael's and got black chalkboard paint.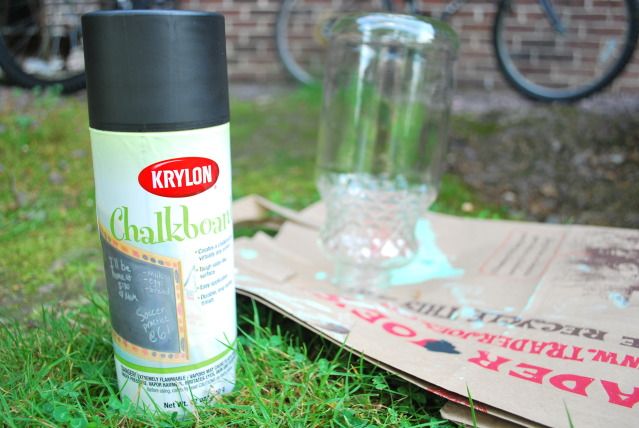 By FAR, this is the easiest. The jar, nooks and crannies and everything, was completely covered within 30 seconds. I repeated the process about 2 or 3 times. I never had to worry about flipping it over. Definitely much easier. The only drawback is that this is
definitely
an outside project. And while I could wash off the acrylic paint, the spray paint (even the tiniest little filaments that would float with the wind onto my skin) stayed. I had to rely on it fading away after multiple scrubbings.
I love how these come out. The best part is that these are non-toxic, so I wasn't worried about sticking flowers in them.
Easiest, the winner is the black spraypaint. Acrylic paint is less messy, but it's way more work.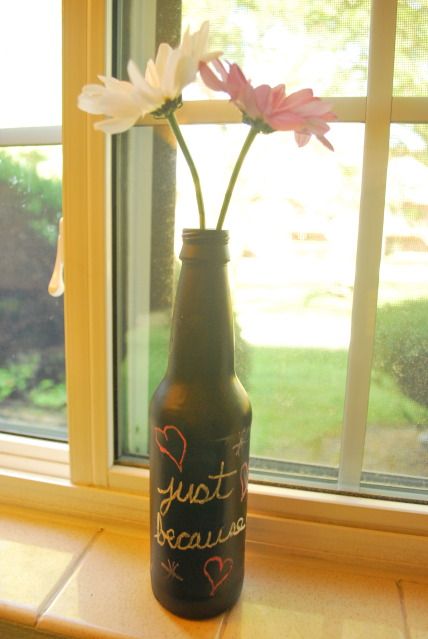 Okay guys. Listen up. Here is the express version of this craft: take a glass soda (or beer) bottle, coat it with chalkboard paint, place a few picked flowers it, write her a sweet message, and leave it where she will find it (assuming she likes flowers). Turn her heart into glitter in two seconds flat.