I don't feel right calling this a Pinterest Fail, or a Pinterest Win, or a Pinterest Anything. Why? Because I knew the original idea would fail. And why? Because candles + glass in close proximity = scorch marks. Because Elmer's Glue + fire = burning. And I wasn't ready to mess up three perfectly wonderful jars because of a project gone awry.
So this is how you get the same results without the horrible, sticky mess and the smell of burning glue.
You need the following:
Rust-oleum Frosted Glass Spraypaint
3 Glass Jars of varying heights
Painter's tape
Electric tea candles
I cannot stress electric tea candles enough, especially if you are doing anything with lidded jars. Even if you don't get scorched glass, most lids are airtight (or airtight enough) that you'll smother the flame pretty quickly. Not to mention that whole pesky "fire hazard" thing.
I wanted to spray paint the insides. I really, really did. As you can see, I had made an awesome protective case around the outside. But I could not get a proper angle for the life of me. After three coats, the glass barely looked frosted. To be honest, it didn't even look slightly foggy.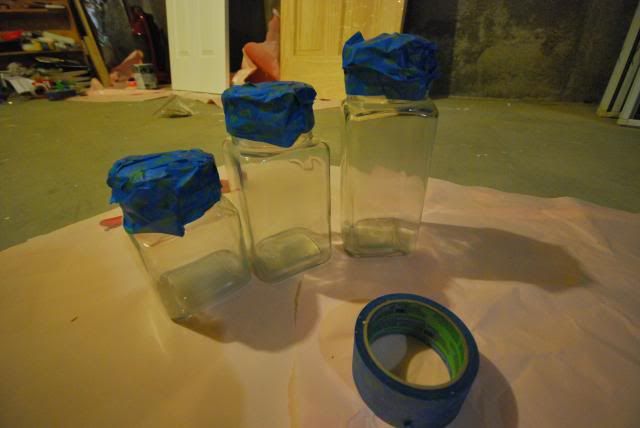 So, Plan B. I taped up the lid and rim and spray painted the outside. I cannot stress enough: like any painting project, do thin, multiple coats. Paint on a thin layer, let it dry
completely
, then do it again. It's a lot more work than lathering it on, but you
will
get drip marks otherwise.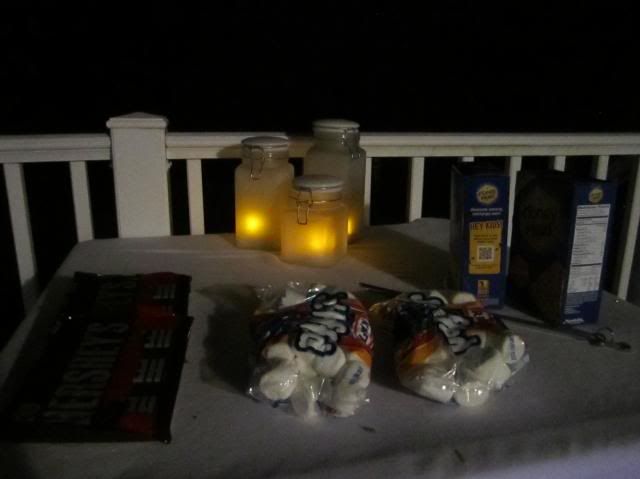 And then, simply place in the (now fully-charged) electric tea candles and you're set! I used these to light up the s'mores table at our Housewarming party.
I recently found out that some websites call for solar lights over tea candles. And while I still am iffy about the Elmer's Glue, I like the idea of the solar lights as well.