For about a month, my former Pre-K class discussed and learned about languages and communication. On top of singing "Good Morning" songs in other languages and making cup-and-string phones (which quickly turn into nunchucks – gotta love 5-year-old boys), I turned the dress-up area into the post office.
First, I found an old canvas bag to serve as the carrier bag. Ignore the part where my counter is cluttered to the nines. Try as hard as I might, I never was able to keep my "teacher counter" completely organized.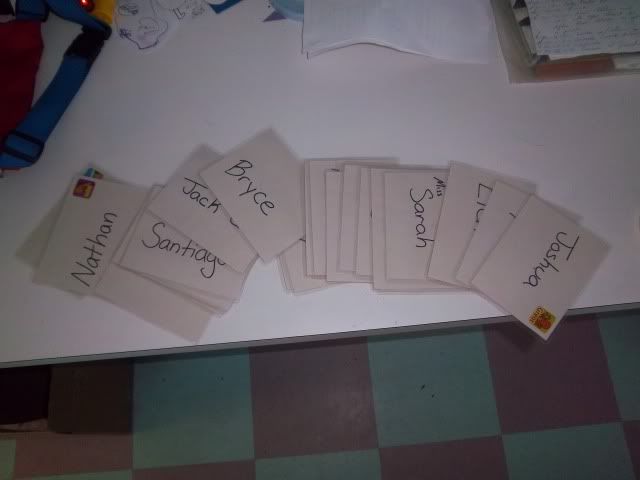 Inside were "letters" – off-white construction paper with the children's names on the front, an envelope flap drawn on the back, and a sticker to serve as the stamp.
*
I found a plastic mailbox in the school's storage center. The children loved "delivering" the mail, both to the box and to each other, as well as "picking up the mail" and putting it in the canvas bag. The children were learning how to recognize their friend's names on paper, as well as "Mom", "Dad", "Dog", and "Cat" – who also got envelopes. They were expanding their creativity as well as learning how the mail system works.
We then went on to write real "letters" (drawn pictures) to put in this mailbox for fellow classmates. We went on walks to document mail boxes, keep and eye out for postal workers -- and even went to the local post office where we got "mail" (free newspapers) for our classroom.
Really, the possibilities became endless.
I now work with one-year-olds, where default "kitchen and baby dolls" dramatic play is more than sufficient. The children are super sweet, and it's a joy to watch them learn to walk, start talking, start learning how to hold a sippy cup. But I really do miss preschool curriculum, especially things involving transforming dramatic play in accordance to what we are discussing that week.
*Faces censored to protect children's identity