Being 5'11", I have a considerable collection of monochromatic dresses that I wear as shirts. Having a very long torso on top of being very tall makes it impossible to wear these dresses normally without exposing myself. Although I enjoy wearing these dresses with a pair of jeans, I've always needed something to draw attention to my waist, lest it gets completely lost in the outfit. I've done the belt-that-holds-nothing-up
ad nauseum
and I needed something new.
To make this belly chain, I got: 1 45" chain (this one is dual-ringed with big loops), jump rings, a toggle/barrette pair, and a pendant. As usual, all of these can be purchased as your local arts & crafts store.
To start, I measured where I would want the toggle. This is completely trial and error and will depend on how tight/loose you want the chain around your stomach. I did mine by fitting the chain around my torso while sitting down. I decided that I wanted mine to be loose enough so that, if I sat down, I wouldn't destroy what I created. This meant a fairly loose chain. This would also mean the chain wouldn't go directly across my waist, but instead rest above my hips. I marked where I would want the toggle by tying a piece of string around that particular link.
After using split rings, jump rings are incredibly easy. I simply pulled a small opening with pliers, attached the loop to the end of the chain, and closed the jump ring with the same set of pliers. Be careful to attach the loop on the end that is farthest away where the toggle will be (unless you have a 10" waist).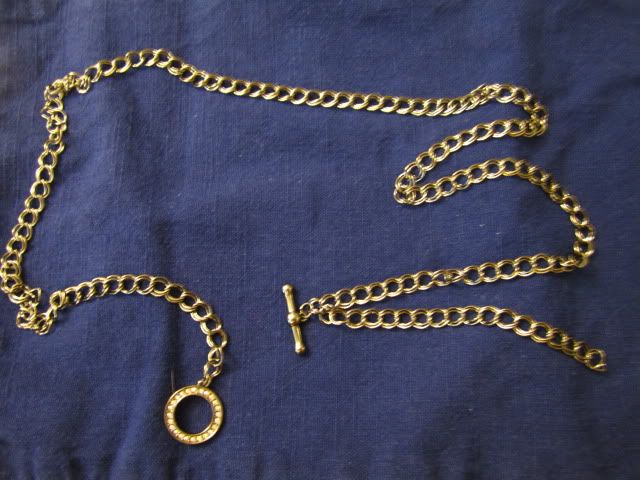 Remove the string and attach the toggle. For some, this is more than enough. A simple chain is a beautiful accessory in and of itself. I found a butterfly pendant that I fell in love with (and, like I said before, I rarely wear pendant necklaces) and decided to use it this way instead.
This is also complete trial and error. What works best is to stand in front of a mirror with the chain around your waist and move the pendant around until it looks good to you. I was eager to wear my completed chain, so I didn't even bother with string to mark where it should go. It was definitely awkward, attaching the pendant to the chain while it was around my waist, but things went a lot quicker as a result. And I'm very happy with what I came out with.