To be honest, most of us in New England thought we were given a break this winter. With the exception of the freak Halloween storm, we had been given very little -- almost no -- snow. Our hubris got the best of us and we started making plans for the spring. I even made plans to start up riding my bike to work again (a free bit of exercise/gas saving that I had to give up once Halloween hit).
And then it snowed like a mother for 48 straight hours.
Now it's the beginning of March and we have a fresh layer of snow on the ground. I ran outside after work with my tripod to capture some long exposures of the snow while it was still pretty, before it started becoming dirty and slushy and iced over in the way all New England snow does. These pictures were also a lesson in color balance. I foolishly though I could counteract on my camera all the orange from the street lamps with blue. But thankfully, that is what trial and error in Photoshop (and in the warm comforts of my apartment) is for. Although I couldn't fix the color situation entirely, what I got was a somewhat eerie representation of a very serene night.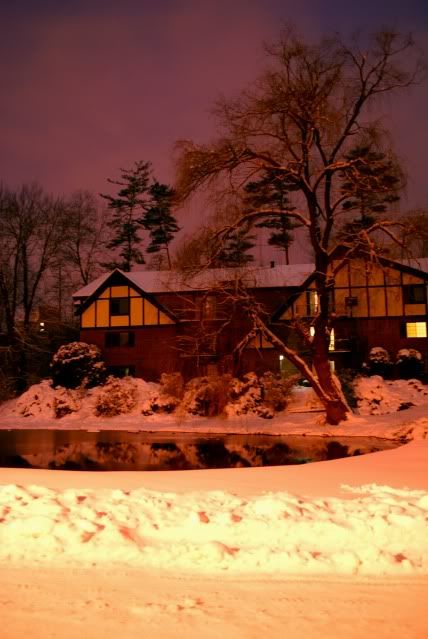 My favorite is of the willow by one of the estate's ponds. This is the same willow where I had set up the same tripod and snapped what would be our engagement shot of my husband and I. It certainly did not have such a daunting presence back last year.