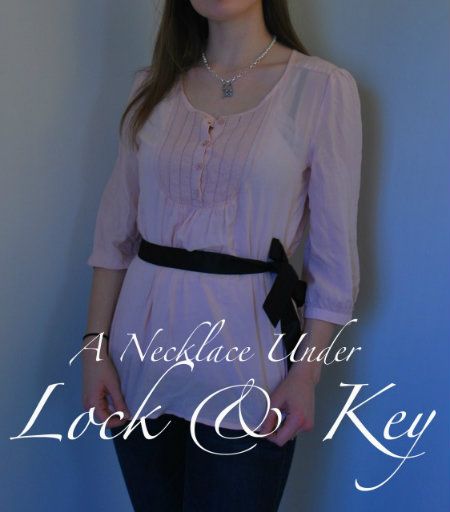 A while ago, I bought some key charms
as part of my DIY charm bracelet
, knowing I'd have some extra key charms left over. I have a fixation on key necklaces. For this project, I decided to combine this fixation with my fixation on pearl necklaces.
For this, I got out: my pliers, my wire cutters, pearl beads, jump rings, toggle/loop, beading wire, and the charms.
I first cut about 6 inches of chain and attached the lock and key charms to the center of the chain, with one chain link separating them.
Using my pliers, I twisted the beading wiring around one end of the chain. After I feebly got the wire on the chain, I beaded the wire, occasionally bringing it up to my neck to see how long I wanted it. Remember that the toggle/loop will add about an inch of length to the necklace.
Once I got the desirable length, I fed the beading wire through the loop of the toggle and twisted the wire in place. I lathered, rinsed, and repeated on the other side. I went through the meticulous task of counting how many beads were on the right side and copying the same number on the left.
The end result?
I also made a super-simple chain necklace with one of the remaining key charms. This one was so simple that I didn't even take pictures of the process. After connecting one of my extra split rings (which I got on accident
long, long ago
) onto a chain, I slid one of the charms onto the chain and attached a lobster clasp to the other end.
I think I have too many necklaces.
Nonsense. No such thing.