The second bedroom in my apartment is more of a library than anything else. And, thanks to
this
idea, I was able to add some fitting decoration.
For this, I needed:
a beloved children's book,
my exacto knife/rotary cutter,
and 5 pictures frames that the pages would fit in (thankfully,
Runaway Bunny
is almost exactly 5 x 7).
I first found five pages that would mesh well together (and were also not on the same page). I wanted something that would create a cohesive mini-story, which is not too hard to do, since
Runaway Bunny
is very repetitive. I then cut each page out with my exacto knife. I found breaking the spine and cutting parallel with the fold produces the cleanest cut. It's okay if the page isn't perfectly cut out, as most frame borders tend to hide a small portion of the picture anyway.
Since my frames weren't cooperating, I taped each page into place in the frame.
After that, there was nothing to do but hang them up. Since I'm rubbish at math, this took a bit of time. I first drew a straight line where I wanted the frames to hang. Eventually, I found that the frames work best if I hammered in a nail every 8 or so inches. This number will obviously vary, depending on the size of your story's pages, the frame itself, etc.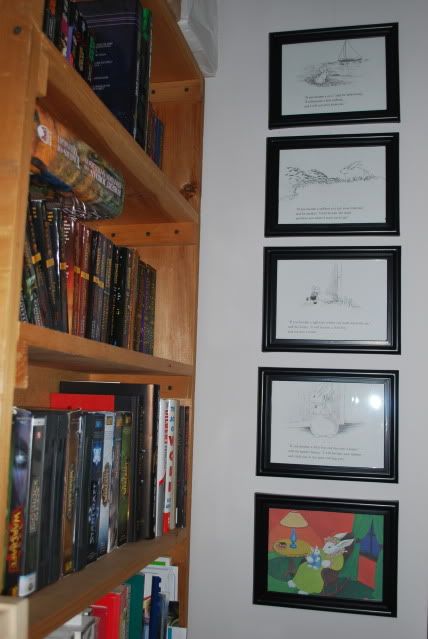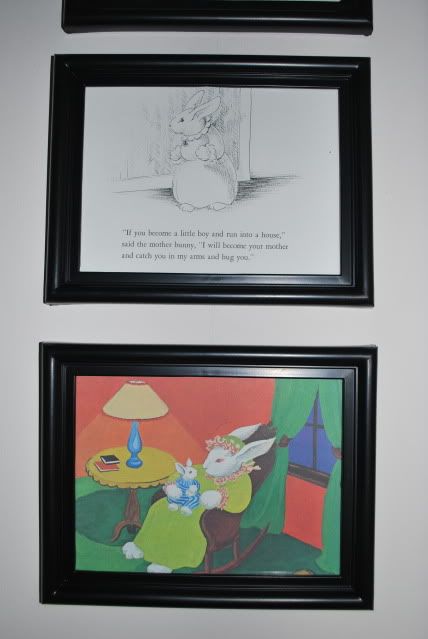 Someday, when I have kids, this will adorn their walls. Until then, it can accent my husband's incredible collection of science fiction novels.